A whole host of medals were up for grabs on Day 8, but it was the first one awarded that made all the headlines. Czech snowboarder Ester Ledecka shocked all the pre-race favorites to take gold in the women's super-G. Only a part-time skier, Ledecka thought there was some mistake in her time when she crossed the line.
A three-month layoff had cast doubts over Japanese skating star Yuzuru Hanyu's appearance at the Olympics. But the Ice Prince became the first man to win back-to-back Olympic gold medals in men's singles since 1952.
That wasn't the only performance to go into the history books. In the women's cross-country relay, Norway's victory meant Marit Bjoergen became the first woman to win seven Winter Olympic golds.
Great Britain's Lizzy Yarnold defended her Olympic title in the women's skeleton to become the first British Winter Olympian to win back-to-back golds. Her teammate Laura Deas scooped a bronze medal, as did Isabel Atkin in the slopestyle — the first British medal on skis ever. Switzerland's Sarah Hoefflin took gold.
The German favorite Laura Dahlmeier endured a torrid time in the biathlon mass start, finishing a long way behind Slovakia's Anastasiya Kuzmina, who took gold.
In short-track speedskating, South Korea's Choi Min-jeong got the victory in the women's 1500m, while Canada's Samuel Girard won the men's 1000m.
In the final medal event of the day, Poland's Kamil Stoch defended his ski jumping large hill title to take gold ahead of Germany's Andreas Wellinger.
As it happened
15:13 - Wow, what a finish to the day. The final gold goes to Poland by the tightest of margins. We'll be back tomorrow with more action, including the gold medal events for Day 9 (all times CET):
- Men's Giant Slalom (5:45)
- Men's Biathlon 15km Mass Start (12:15)
- Men's Cross-Country 4x10km Relay (7:15)
- Men's Ski Slopestyle (6:11)
- Men's Aerials (12:52)
- Women's 500m short-track speed skating
15:12 - So to recap the gold medals today:
- Poland: Men's Large Hill ski jump
- Great Britain: Women's skeleton
- Canada: Men's 1000m short-track speed skating
- South Korea: Women's 1500m short-track speed skating
- Slovakia: Women's biathlon 12.5km mass start
- Norway: Women's Cross-Country 4x5 km relay
- Switzerland: Women's Slopestyle
- Japan: Men's singles figure skating
- Czech Republic: Women's super-G
15:10 - GOLD FOR POLAND Kamil Stoch defends his title! So close for Andreas Wellinger, but what a tense finish to the ski jumping. The best jumper in the world ends up 3.4 points ahead of Wellinger.
15:07 - Hold the front and back pages! Andreas Wellinger puts in an incredible jump and is now guaranteed a second Olympic medal. What color will it be? I would not bet against gold.
15:06 - Just the big three to go now, and Johansson is out in front! He matched Tande for length, but had points deducted for the landing.
14:56 - Woof! What a jump by Daniel Tande! Not only was it gigantic, it also earned him plenty of points for style. The Norwegian is out in front with ten jumpers to go. Germany's Karl Geiger is in second with Richard Freitag in third.
14:44 - Ten down, 20 to go. And at this stage, Canadian Mackenzie Boyd-Clowes has his nose in front.
14:30 - LAST MEDAL OF THE DAY ALERT: Need a breather? Forget it! We're off over to the ski jumping now for the second and final round of the men's large hill event. Favorite Kamil Stoch of Poland leads the way ahead of Austria's Michael Haybock and Andreas Wellinger of Germany.
14:24 - GOLD FOR GREAT BRITAIN! Flock messes up her final slide having been in pole position and slips all the way to fourth. It's back-to-back skeleton gold medals for Britain's Lizzy Yarnold. Laura Deas also takes bronze for GB and it's silver for Germany. Yarnold is the first British athlete to defend a Winter Olympic title.
14:22 - Defending champion Lizzy Yarnold sets off in pursuit of a second successive gold. A fantastic time, to take the lead! She just has to wait and see what Janine Flock does now...
14:20 - Germany's Jacqueline Loelling, the world number one, picks up speed late and just nicks into third. Bronze at least for Germany.
14:18 - Deas just clipped a side and is now guaranteed fourth at least, but it is going to be very tight for a medal.
14:16: Great slide by Germany's Tina Hermann to really put pressure on those above her. And she stays ahead of compatriot Anna Fernstaedt. Next up it's Laura Deas of Great Britain, who gets off to a superb start...
14:12 - Six to go now and the medal candidates are ready. Latvia's Lelde Priedulena is the leader ahead of the big guns and is now guaranteed at least seventh place.
14:02 - With ten of the 20 athletes now having completed their final heat, Canada's Jane Channell leads the way so far after a really strong finish. Her earlier runs let her down though, and she will be overtaken on the podium when the frontrunners are up.
13:53 - We're underway in the skeleton now. The final heat to decide the medals. Australian Jackie Narracott is the early leader, but there are still 15 more athletes to go. Sophia Jeong of South Korea gets the crowd going, but just bounced off the side to take some speed off.
13:42 - It is raining medals now, the women's skeleton final heat is about to start. But we're still recovering from the pile-up in the men's speed skating final. Sandor Liu Shaolin wiped out Lim Hyo-Jun and took Seo Yi Ra with him. The North Americans then raced it out, almost in disbelief.
13:33 - So to recap the gold medals so far today:
- Canada: Men's 1000m short-track speed skating
- South Korea: Women's 1500m short-track speed skating
- Slovakia: Women's biathlon 12.5km mass start
- Norway: Women's Cross-Country 4x5 km relay
- Switzerland: Women's Slopestyle
- Japan: Men's singles figure skating
- Czech Republic: Women's super-G
13:27 - GOLD FOR CANADA! Samuel Girard wins it for Canada ahead of John-Henry Krueger of the US. But what a race. On the last lap, a mass crash left only two men in the race. South Korea's Seo Yi Ra got up to finish in third eventually, but that was an incredible finish.
13:25 - No rest at the skating rink, next up it's the men's event. 1000m speed skate on a short track. Just 9 laps and around a minute is all it will take.
13:16 - GOLD FOR SOUTH KOREA! Choi Minjeong sends the home crowd wild. She was the favorite and did not disappoint in the women's 1500m short-track speed skating. She flicked the switch to turbo with 4 laps to go and left everyone else in her wake. Li Jinyu got silver for China and Kim Boutin picked up a bronze for Canada.
13:11 - The skaters are out on the ice for the women's 1500m short-track speed skating. The hosts South Korea have two representatives going for a medal. The crowd is raising the roof in expectation. This is a really popular sport in South Korea, and the country's president is on hand to celebrate any success.
13:00 - Over in the women's skeleton, we're into the second of four heats with Janine Flock of Austria is ahead of Britain's Lizzy Yarnold. And the final line-up for the men's 1000m speed skate is complete, with two South Koreans sure to get the crowd buzzing. Lim Hyo-Jun, Sandor Liu Shaolin, John-Henery Krueger and Seo Yi Ra will go for gold.
12:51 - GOLD FOR SLOVAKIA! Anastasiya Kuzmina put in an almost perfect race, only one mistake in the final shoot to win the women's biathlon 12.5 km mass start. After two silver-medal finishes in the pursuit and individual races, Kuzmina finally gets her gold. Darya Domracheva grabs silver for Belarus and Norwegian Tiril Eckhoff holds on to bronze.
12:44 - The fourth and final shoot now as Anastasiya Kuzmina arrives. A perfect first four is followed by a miss in the final effort! She has to complete a penalty round, but emerges from it still in the lead. Only Domracheva hits all five and is now second, 24 seconds behind. Gold and silver seem decided already, but bronze will be photo finish.
12:41 - Three kilometers to go and things will have to go seriously wrong if Kuzmina does not get gold. Wierer is still a distant second, 50 seconds behind. The German athletes are nowhere in sight.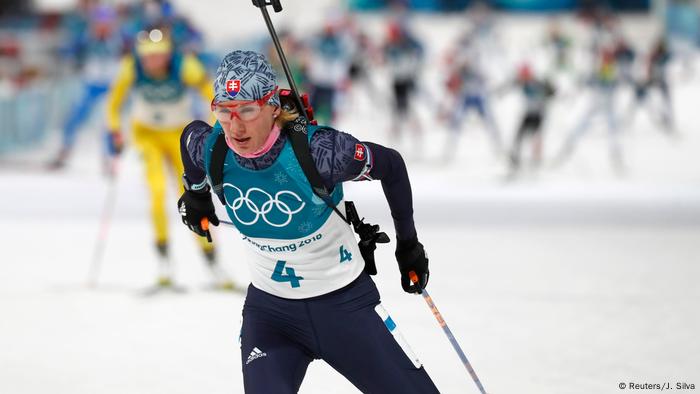 Anastasiya Kuzmina led from almost start to finish
12:35 - Kuzmina is all alone and way out in front. She has all the time in the world to set herself up for the standing shoot. Darya Domracheva arrives a short while later, but this is not her favorite discipline. And the Bulgarian misses! She won't catch Kuzmina, who hits the target every time again. Italian Dorothea Wierer is now in second.
12:28 - Second round of shooting and Kuzmina has another full house on her way to what surely will be a medal. Herrmann also holds her nerve but Dahlmeier misses again and can already forget any dreams of a further medal in these Games. Hanna Oeberg and Darya Domracheva come out of the gallery in second and third.
12:25 - Anastasiya Kuzmina is setting a blistering pace out front, with Herrmann just about clinging on to her coattails in third. Dahlmeier is way down in 20th and 40 seconds behind.
Laura Dahlmeier was below standard at the shooting gallery
12:21 - Kuzmina and Denise Herrmann are the first to arrive at the shooting gallery. And they both complete a perfect five. Neither make a mistake and are off again. But Laura Dahlmeier missed one and has to complete a penalty lap. That's an early shock and leaves a gap she won't pull back in the next lap.
12:15 - The pack is still bunched up, with Hermmann and Dahlmeier nestled nicely among the leaders. Kuzmina of Slovakia is setting the pace, but there will not be much to choose between anyone before the first shoot.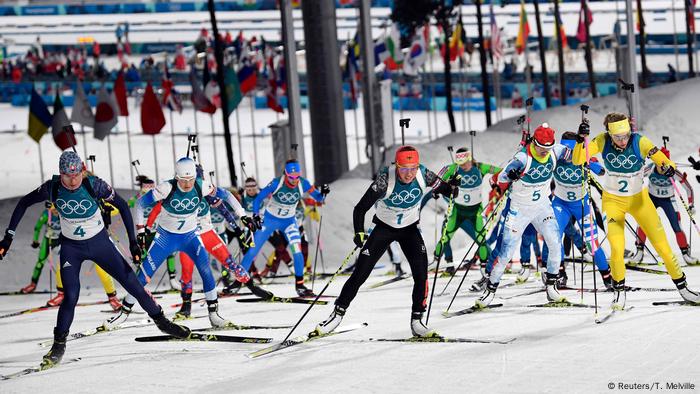 12:06 - We're just minutes away from the women's biathlon mass start. Germany are hot favorites for medals with Laura Dahlmeier tipped for gold and Denise Herrmann also very much in the running for a medal.
11:54 - Over in the short-track speed-skating heats, Maame Biney has been eliminated as we approach the semi-finals stage in the men's and the women's events. Medals are up for grabs later.
11:35 - Marit Bjoergen makes history! What an effort it was in that final leg of the cross-country relay. And she has now become the first female Winter Olympian ever to win seven gold medals and has a record-equalling 13 medals in total to her name.
11:30 - So to recap the gold medals so far today:
- Norway: Women's Cross-Country 4x5 km relay
- Czech Republic: Women's super-G
- Japan: Men's singles figure skating
- Switzerland: Women's Slopestyle
11:23 - GOLD FOR NORWAY! Marit Bjoergen holds off the challenge from Stina Nilsson in the final straight of the Women's Cross-Country 4x5 km relay! They looked dead and buried in the second leg, but Ragnhild Haga made up so much ground and Bjoergen kept her focus in the final leg. Sweden take silver and the Russians bronze. Germany finished in sixth.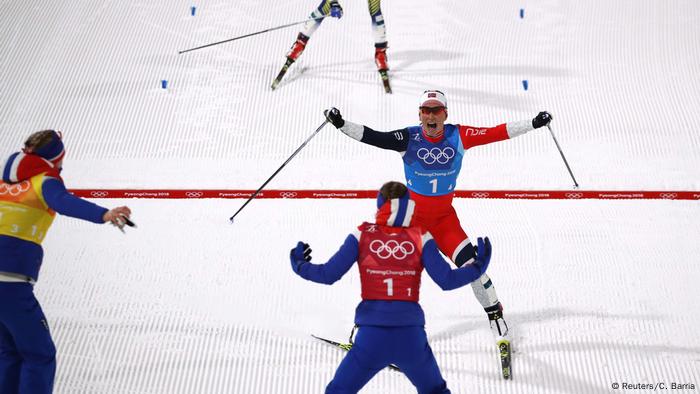 11:20 - One kilometer to go... Norway and Sweden are neck-and-neck. It's going to be a sprint finish, which may play into Stina Nilsson's hands for Sweden.
11:09 - The final change! The last leg! And it is really hotting up in the cold. After passing the baton just 3 seconds behind the leaders, Norway are now in front! And this is going to be a Nordic one-two. Norway and Sweden are opening a gap to the Russians. After that, it's daylight to the rest ... well, floodlight as it is getting late in Korea.
11:06 - Haga has made up a lot of ground and brought norway back up to third ahead of Finland. Sweden and the Russians are fighting it out for gold. The pace is most definitely picking up.
10:56 - Scrap that. Norway's Astrid Jacobsen is struggling and has dropped way off the pace. Sweden are 1.7 seconds behind the Russians at the third change, with Finland a further 10 behind. I'd probably say that those three will take the medals, but this is not over yet.
10:52 - The top three is now a top two. Neck-and-neck between the Russians and Norway out in front. Finland and Sweden are jostling for third at the moment.
10:49 - Although the gap between the top three in the cross-country relay and the rest is still formidable, it is shrinking somewhat. The pace is no longer so blistering and the chasing pack are closing in...
10:43 - Natalia Nepryaeva is pulling away at the front and the Olympic Athletes from Russia have a commanding lead at the first change. Slovenia and Norway have also got a healthy cushion over Finland in fourth.
10:36 - Steffi Boehler is lagging behind. Russian athlete Nepryaeva, Norway, Slovenia, Sweden, Finland and the US have opened up a gap as we approach the first change
10:34 - The French team are in trouble already, slipping in the first 100 meters. Norway are setting the early pace, and Germany's Steffi Boehler neesd to make sure she doesn't lose touch with the leading pack too early.
10:30 - We are underway in the Women's Cross-Country 4x5km relay. Germany are hopeful of a medal and have placed Sandra Ringwald in fourth, envisaging a sprint finish.
09:50 - Staving off a career-threatening injury? Escaping one of the world's worst earthquakes? Winning gold with his first skate in three months? Yep, Yuzuru Hanyu had to work hard to become the first man to win back-to-back figure skating golds...
09:21 - Swiss slopestyle gold medallist Sarah Hoefflin has dashed any hopes Great Britain may have had of adding to their first ever medal on skis. Isabel Atkin had scooped bronze for Team GB behind Hoefflin, who grew up in Great Britain. But when asked if she would switch citizenship, Hoefflin was pretty blunt: "No, I'm not British, I'm staying Swiss."
09:02 - Norovirus latest! The two Swiss skiers that went down with the highly contagious — and if we're honest, very unpleasant — vomiting virus on Friday have been given the all clear to return to training. Fabian Boesch and Elias Ambuehl were the first athletes to catch the bug that has been doing the rounds in South Korea, but appear to be over the worst of it.
08:45 - The curling quarter-finals are now complete. Switzerland held on to secure a 7-5 win over Norway and Japan edged it in the end, beating Italy 6-5.
08:32 - The home fans are in raptures as South Korea inflict an 11-5 defeat on fancied Great Britain in the men's curling quarter-finals. Elsewhere, Sweden saw off Canada 5-2 but it is going down to the wire between Japan and Italy (5-5 at the moment) and Switzerland have their noses slightly in front of Norway, leading 6-5.
08:00 - Plenty of consternation on the curling ice as the quarters enter the decisive phase. But we're still catching our breath after an astonishing day so far. In case you missed it, where on earth were you? First, snowboarder Ester Ledecka produced one of the greatest Olympic shocks of all-time, winning the super-G skiing by 0.01 seconds. Then Japanese figure skater Yuzuru Hanyu defended his Olympic title despite only returning from a five-month layoff the day before.
07:00 - There's a slight lull in proceedings now, after that flurry of events. But never fear, the curlers are back on the ice. The second set of matches of the day sees hosts South Korea take on Great Britain, Switzerland play Norway, Canada take on Sweden and Japan vs. Italy
06:53 - Canada's last penalty-shot clips the post and the Czech Republic take the win in the men's ice hockey. They won the shootout 3-2 after the match finished 2-2. It was Canada's first defeat at the Olympics since 2010. Both teams should still qualify for the quarterfinals though.
06:40 - Over to ice hockey and away from medals now. Canada and Czech Republic are in a penalty shootout in Group A of the men's draw. Earlier in the women's tournament, the Olympic Athletes of Russia (OAR) hammered Switzerland 6-2 to book a semifinal clash with Canada.
06:31: Well, you wait all day for gold medals and then three come along at once. Just to re-cap; Ester Ledecka started it off, snatching an unlikely gold in the Super-G by one hundreth of a second. Then Yuszuru Hanyu led a Japanese 1-2 in figure skating, retaining his title despite having been injured for the last five months. Finally, there was another 1-2 in the Women's Ski Slopestyle, led by Sarah Hoefflin. And breathe...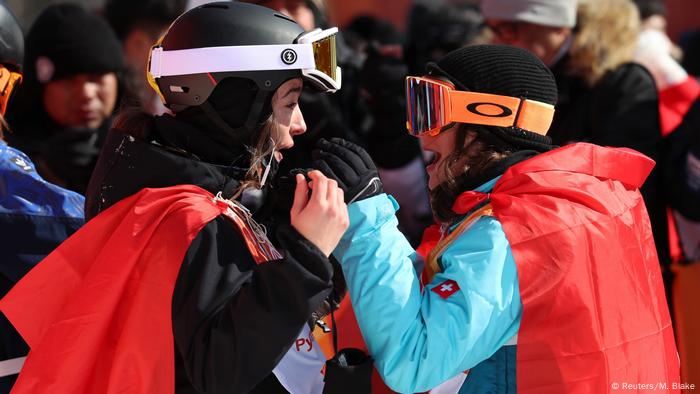 Mathilde Gremaud and Sarah Hoefflin celebrate a Swiss 1-2 in the Slopestyle
06:27: GOLD FOR SWITZERLAND! Sarah Hoefflin's incredible final run score of 91.20 edges her ahead of compatriot Mathilde Gremaud, who registered an 88.00 on run 1 and British skier Isabel Atkin's third run 84.60 to win the Ski Slopestyle. It's 27-year-old Hoefflin's first Olympic medal. Atkin wins Britain's second bronze of Pyeongchang and their first ever medal on skis.
06:22: - Norwegians Johanne Killi and Tiril Sjaastad Christiansen have their crack at glory but don't trouble the leaders. Sweden's Emma Dahlstrom will be the last to hit the snow.
06:20: Great Britain's Isabel Atkin does enough to put herself in bronze medal position, three skiers to come.
06:15 - No time to dwell on that, it's straight to the Women's Slopestyle final. Sarah Hoefflin leads a Swiss 1-2 with Mathilde Gremaud right now but there's a couple of athletes left.
06:09 - GOLD for JAPAN! It is Yuszuru Hanyu, who defends the title he won in Sochi four years ago. His first skate after five months out injured came just yesterday and now he's the Olympic champion. And, despite that fall, Shoma Uno makes it a 1-2 for Japan. Javier Fernandez, of Spain, wins bronze.
06:06 - Uno, who performed to the ever-dramatic strains of Nessun Dorma, is done but fell to the ice at one point. It looks like it's Hamyu's gold again. We'll find out very soon.
06:00 - Hanyu holds on to the lead in the Figure Skating after Javier Fernandez' display is only good enough for second. Just Hamyu's compatriot Shoma Uno to go now...
05:58 - The third and final run of the Women's Ski Slopestyle will be with us very soon. Mathilde Gremaud of Switzerland is the current leader.
05:49 - Yep, here come the toy bears. Hanyu drops to his knees to touch the ice after an exceptional, almost faultless, performance and volunteers clear up the toys thrown by a vociferous crowd. That routine saw him awarded 206,17, good enough for second in the Free Skating and the overall lead! Two more athletes to come.
05:44 - Yuszuru Hanyu is on the ice. He's a hugely popular figure in Japan, as we saw on Friday when the rink was covered in toy Winnie the Poohs (apaprently one of his favorite characters) following his performance. That was also his return from a serious injury.
05:39 - And, just like that, we have a new leader...
05:30 - And after waiting more than six hours for the first gold medal of the day, we're now not far away from a second. The Men's Figure Skating is currently led by two Americans - Nathan Chen and Vincent Zhou - but with five competitors still to perform, it's unlikely to stay like that.
05:17 - GOLD FOR CZECH REPUBLIC! It's now officially confirmed, Ester Ledecka is the Super-G Olympic champion. She's just done a quick interview with Eurosport: "I was always trying to win but for sure I did't expect that," said the 22-year-old, who also competes in snowboard events. Austrian Anna Veith takes silver, Tina Weirather (Liechenstein) bronze.
05:09 - With things looking good for the multi-talented Ledecka in the Super-G, it's worth noting that the first of the three runs that make up the Women's Ski Slopestyle final are beginning. The final run will start in just under an hour.
05:00 - This is unbelievable. Veith must have thought she'd won,as did the rest of the world, but Ester Ledecka has just completed a superb run to pip her by a hundreth of a second. The Czech skiier, who is also in the snowboard parallel slalom, leads and looks thoroughly shocked by that turn of events. She's not the only one.
04:25 - We have a new Super-G leader, Austria's Anna Veith who is currently set to retain the title she won in Sochi four years ago.
04:32 - Viktoria Regensburg got the Germany team thinking they might extend their medal table lead for a second there with a brilliant start. She was ahead of the game coming in to the final checkpoint but eventually slumped to sixth.
04:30 - Weirather still leads at the Super-G. If she holds on, it'll be Liechtenstein's third Winter Olympics gold. The first two were won by her mother Hanni Wenzel at Lake Placid in 1980.
04:15 - Wow. Liechtenstein's Tina Weirather takes the lead by one hundreth of a second and knocks Vonn off the podium. Elsewhere, there were wins in the curling for Sweden, USA, China and Great Britain. There'll be more of that this afternoon.
04:10: - Vonn's error already looks costly. After five runs, shes's already down in third. Johanna Schnarf, of Italy, has gone ahead of hera nd Switzerland's Laura Gut is the current leader.
04:01 - Vonn flies hugely wide on a bend and therefore sets a pretty poor mark of 1:21:49, which seems very likely to be be surpassed by at least three athletes.
03:57 - We're almost set for the first medal of the day, the Women's Super-G. Lindsey Vonn will go out first in a race missing Mikaela Shiffrin, who pulled out after illness. For some reason the best skiiers race first in this one followed by a a lot of athletes who have no hope of victory, so we'll have a winner very soon.
03:41 - Things are heating up in the men's figure skating. Fortunately, not literally as competition might prove tricky were that to be the case. America's Nathan Chen just delivered an historic display, landing six quads (four spin jumps). His free skate score is a whopping 215.08. If only he hadn't finished 17th in the short program... Nevertheless, a remarkable display from the 18-year-old.
03:25 - Over in the Ski Freestyle, Germany's Kea Kühnel's hopes look slim after a shocking performance in her first qualifying run followed by a fairly unspectuacular one in her second.
03:05 - A quick update on those curling matches: Sweden lead Switzerland 6-4, USA are 5-4 up over OAR, Great Britain lead Denmark by the same score and Japan lead China 5-3. The matches are in end 8 of 10.
02:45 - Two more have been and gone at the Figure Skating. Chinese athlete Han Yan was definitively - but unfortunately - not the man before Japan's Keiji Tanaka added a touch of class, gliding around in a mock dinner jacket and pocket square to some piano numbers. Unfortunately he also fell over twice.
02:30: - Well. Fentz makes an interesting sartorial choice with some mock-armor that has more than a touch of the school play about it. He accompanies that with a version of the Game of Thrones theme and a performance marked with a couple of stumbles and some more elegant moments. Not great but he acknowledges the crowd like Daenerys Targaryen after a victory in battle. So, there's that.
02:20 - We've seen our first two figure skaters and already two falls and a Beatles medley including Come Together, Let it Be and Help . Fair to say Denniss Vasiljevs (Latvia) and Matteo Rizzo (Italy) won't be featuring on the podium but they look happy enough. Paul Fentz, Germany's sole entrant, is up next.
02:00: The Men's Singles Figure Skating, the first medal event of the day is about to start. The 24 competitors will perform their free skating routine in reverse order, according to their short program from Friday. Japan's Shoma Uno registered the best score and will be last on the ice while his popular compatriot Yuzuru Hanyu (see 01:30) will be third-from-last.
01:45 - As it was yesterday, it's curling that starts the day. Switzerland are playing Sweden, USA are taking on OAR (Olympic Athletes from Russia), Japan play China and it's Great Britain vs. Denmark. Some tasty matchups in the roundrobin stage there. Four of the ten teams in the league will qualify.
01:35 - A spot of housekeeping first, and the Women's Super-G event has been delayed by an hour due to high winds. Lindsey Vonn among the favorites there.
01:30 - Hello again and welcome to Day 8 of the Pyeongchang Games! We're expecting another dramatic one, just like day 7, and there's a huge variety of events, with nine medals to be won. The first of those is in men's figure skating where Japan's Yuzuru Hanyu will be hoping to match his stellar display yesterday, complete with Winnie the Pooh souvenirs.
Stay tuned throughout the day for updates.
Germany still lead the medal table, despite a disappointing day yesterday, while Mikaela Shiffrin will miss the Women's Super G after falling ill.