New York-based Iranian visual artist Shirin Neshat is known for her photography, video installations and films. Her work has largely dealt with women's issues in Iran, exploring taboos and touching on gender and cultural conflicts.
At this year's Salzburg Festival, she is the stage director for a new production of Verdi's opera "Aida," starring Russian soprano Anna Netrebko, who debuted in the role to resounding applause on Sunday evening. German Chancellor Angela Merkel and her husband Joachim Sauer were among the prominent guests in attendance at Sunday's premiere - which saw mixed reactions for Neshat's staging.
The 19th-century work "Aida" tells the story of a Nubian princess captured and enslaved by the ancient Egyptians. Radamès, a military commander, finds himself forced to choose between his love for Aida and his loyalty to the powerful Pharaoh.
DW spoke with Neshat ahead of the premiere of "Aida," which was conducted by Riccardo Muti.
Read: Anna Netrebko in a newly-staged 'Aida' tops long list of updates at Salzburg Festival
DW: Ms. Neshat, how would you describe your interpretation of "Aida?" How do you see the opera?
Anna Netrebko will be Aida
I have the feeling that there is a lot to interpret with "Aida," both from a Western and non-Western perspective. I know that many Middle Eastern critics have complained about how "Aida" exoticizes Egypt and portrays it as a barbaric society.
I know a lot of other people have said that, in fact, Verdi wasn't trying to turn Egypt into a barbaric society but was actually showing the European empire as a barbaric society. The debate goes on. Then, of course, there is this beautiful libretto, this love-tragedy, this powerful music.
But what really enticed me is the main dynamic about this relationship between three individuals - this love-triangle of Radamès, Aida and Amneris - versus the religious fanatics, the political figures and the authoritarian government, embodied by the King.
This is exactly what I do in my work, using everything from photos to film. My work has always been about women at the intersection of political tyranny and religious fanaticism, and women representing individuality and humanity.
I've always depended on music as a source of emotion, as a way to insist on humanity. To me, "Aida" is a universal story, a timeless story, and is absolutely relevant today.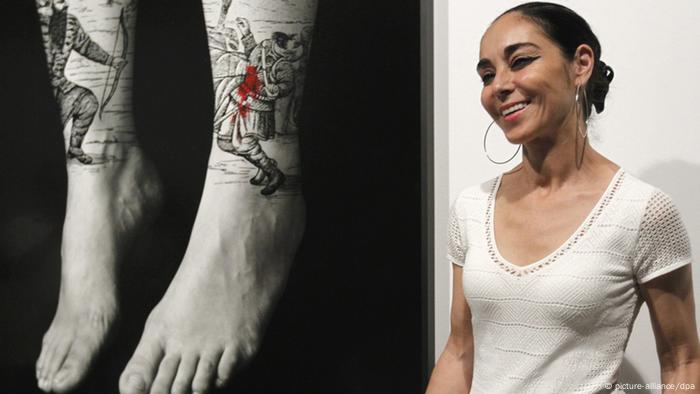 Shirin Neshat is known for her photography and film art
What I didn't like is how the traditional "Aida" is really an outgrowth of European imagination. It really demonizes the Egyptians and Ethiopians in a terribly negative way, so I couldn't help but make it more complex. So, in my production, ancient Egypt is not ancient Egypt, it is Europe. The religions are a mix of Islam, Judaism and Christianity, and the time setting is archaic versus modern and the future.
This interpretation of "Aida" aims to overlay different cultural backgrounds, ethnicities, religious differences and time contexts.
Read: Beyond the veil: Bold art by Persian-Arab women at the Marta Herford
How did you feel when the director of the Salzburg Festival asked you to do "Aida?"
Shirin Neshat: The timing was extraordinary. For years now, I've been gravitating away from Iranian subjects. I felt exhausted by constantly making work about a country I don't visit any more.
So I began this whole process of working in other cultures, like Egypt. I made a film, "Umm Kalthum," which has taken me six years from from when I began to explore the idea until today.
Two years ago, when I was still working on the script for "Uum Kulthum," I was invited to lunch by Markus Hinterhäuser, now the director of the Salzburg Festival. I was trying to anticipate what his request would be. Maybe some form of collaboration with a director? But he actually was asking me to stage "Aida."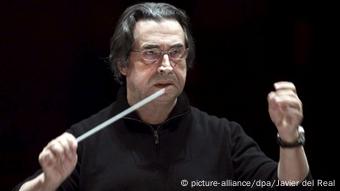 Riccardo Muti will conduct "Aida"
I almost fell over and said, "You must be joking, Markus. I haven't even seen many operas in my life, and I know nothing about 'Aida' or classical music." He said, "Don't worry, I have confidence in you and know you can do it."
He immediately took me to a record store and bought me a recording of "Aida" with Riccardo Muti, and said, "Listen to this, you'll fall in love with it."
How did you meet the famous conductor Riccardo Muti?
I went back home and really didn't think much about it. Some time later, Maestro Muti was in New York doing a concert at Carnegie Hall. Markus Hinterhäuser was there too, and the three of us, joined by Maestro Muti's lovely wife, had dinner together. He looked at me and said, "I will never forget: You are Aida! You look like Aida!"
At first, I was trembling, and he asked, "What's your great idea about 'Aida'?" And I said, "But I have no ideas. I haven't thought about it." But I was so charmed by his trust and his encouragement, I couldn't say no.
So I said to myself, "Ok, this is going to be your biggest challenge. While directing a film about an Egyptian icon, now you are also going to tackle Verdi's biggest opera for the Salzburg Festival, conducted by Maestro Muti, with soprano Anna Netrebko. This is really a big deal, so take it seriously."