A former banker on Monday handed over confidential details of over 2,000 Swiss bank accounts to the whistle-blowing website, WikiLeaks.
At a news conference in London, Rudolf Elmer presented Wikileaks founder Julian Assange with the data that allegedly contains proof that prominent individuals have been involved in "mass tax evasion."
Elmer refused to name the individuals or companies involved though he said they included some 40 politicians, as well as businessmen and multinational conglomerates from Germany, Britain, America, Austria, Asia and "all over."
He told reporters that he has decided to hand further information to WikiLeaks "to educate society."
"I have been there, I have done the job, I know what the day-to-day business is, I know how much is documented there and how much is not," Elmer said.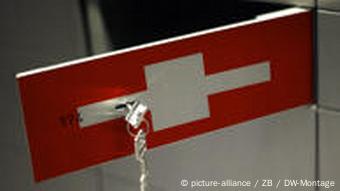 Switzerland is under increasing international pressure to relax its secrecy laws
Reviewing data
Assange, who is on bail pending court proceedings over his extradition to Sweden on allegations of sex offences, made a rare appearance to receive two disks containing the account information.
"He [Elmer] is clearly a bona fide whistleblower... We have some kind of duty to support him in that matter," said Assange.
He added that the information would be thoroughly checked by his organization, but said it may be weeks before the information is published.
Facing trial
A former executive at top Swiss private banking group Julius Bär, Elmer was among the first people to provide high profile information to WikiLeaks, releasing client data to the website in 2007.
He is due to stand trial in Switzerland on Wednesday for breaching bank security laws following his earlier revelations.
"I am against the system. I know how the system works," he said. "I want to let society know how this system works because it's damaging our society."
He claimed individuals were hiding money in secret offshore banking jurisdictions.
Banking secrecy
The government in Berne has come under growing pressure in recent years to relax its strict banking secrecy laws and do more to help other governments identify people using Swiss bank accounts to dodge taxes at home.
Switzerland has made some concessions on this issue, most notably releasing details of around 4,450 clients of banking giant UBS to the US government last year, after Washington agreed to drop a lawsuit against the financial institution.
Author: Mark Hallam, Charlotte Chelsom-Pill (AFP, dpa, Reuters)
Editor: Rob Turner