In 1989, Spike Lee featured Public Enemy's "Fight the Power" in his most famous film, "Do The Right Thing," to portray race relations in Brooklyn. Over a quarter of a century later, he uses once again the power of hip hop to spread his anti-gun message through "Chi-Raq," a film which revisits the ancient Greek play "Lysistrata" by Aristophanes, where women initiate a sex strike to end a war.
Lee picked up the name of the movie from "a term coined by local Chicago rappers who likened their part of the city to Iraq," the filmmaker explained at a press conference during the Berlin International Film Festival.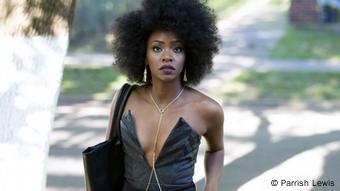 'Chi-raq': using hip hop to spread the message
The death toll for the South Side of Chicago is higher than that of any other American city. According to statistics from 2015, 2,996 people were shot in Chicago last year - one every 3 hours.
Throughout the opening credits of the film, the lyrics of the song "Pray 4 My City" flash across a black screen in red, setting the tone by stating: "This is an emergency."
"Chi-Raq" criticizes the structural and racial problems that allow gang violence to prosper in low-income neighborhoods, as the political will to change the situation is lacking. Yet, Spike Lee also aims to directly reach African-American youth by playing with the aesthetics of gangster rap.
How hip hop deals with violence
If hip hop initially served as a vehicle to denounce oppression and police brutality, drill rap, popular in Chicago, glorifies violence, guns and easy money.
"Hip hop now glamourizes so many other things instead of actually using the art form to spread the word and concentrate on the real issues - as Spike has done time and time again," said the main actor of the film, Nick Cannon.
For the Senegalese filmmaker Rama Thiaw, "the ego trip found in the phenomenon of American gangsta rap has sent hip hop through the looking glass. At first, real hip hop was a way to create awareness and educate the masses living in the ghettos," she told DW.
From Brooklyn to Dakar
Towards the end of the 80s, this political voice found its way to Dakar by plane, as stewards brought hip hop tapes they were discovering in New York with them. The message appealed to a generation affected by years of strikes. They wanted to express their rebellion against the French colonialist influence by adopting a new culture, says Rama Thiaw.
Her documentaries show how this American influence has allowed rap to become a real game changer in the politics of Senegal.
Her latest documentary, "The Revolution Won't Be Televised," followed the rappers of the band Keur Gui, who were among the initiators of "Y'en a marre" ("We're Fed Up"), a resistance movement which led to the pacific ousting of President Abdoulaye Wade in 2012. In a country where two-thirds of the population are under 25, the musical form of these politically articulated rappers made the difference.
When Thiat and Kilifeu, two members of Keur Gui, discuss in the documentary about how their wobbly technical equipment is affecting their artistic development, they proudly remind themselves that they've achieved something Snoop Dog most probably never will: To launch a revolution.
The revolution will not be televised
The title of the film borrows from Gil Scott-Heron's most famous song, as a tribute to the spoken word poet who died in 2011 - the same year Senegal's pacific revolution started. The name was also chosen to point out that the Senegalese experience was barely covered by the international media, while all eyes were turned to the Tunisian revolutionary events during that same period. Thiaw believes that such a positive model had something shocking about it and that to spread it was to risk other pacific revolutions occurring throughout former French colonies.
The activists could have chosen the easy way to luxury. In one scene, Thiat reveals that he was offered a villa and half a million dollars to publically announce he would leave the political movement. He refused the bribe.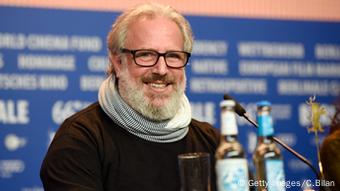 Udi Aloni at the Berlinale
From Dakar to Tel Aviv
While the Senegalese rapper Thiat wears a keffiyeh, the traditional scarf that has become a symbol of the Palestinian resistance movement, another vital hip hop scene has emerged there too.
In the mid-90s, a young Palestinian called Tamer Nafar recognized his reality in Tupac's songs about police brutality and oppression and was inspired to rap about his own life. His band DAM, "Da Arabian MCs," launched the Palestinian version of hip hop.
"Palestinian hip hop is clearly a voice of justice. It is also a voice of radical feminism," filmmaker Udi Aloni told DW. The Israeli has been collaborating with Tamer Nafar on several projects over more than a decade - most recently co-writing with him his film "Junction 48," which premiered in Berlin.
This high-energy movie is based on Nafar's own experience, with the rapper playing a fictionalized version of himself. Kareem, the main character, lives in Lod - or Lyd, as the Palestinians refer to it - a city 15 minutes away from Tel Aviv. Scarred by the massive expulsion of Palestinians in 1948, Arab neighborhoods of this city now have limited social infrastructures and are affected by high-crime rates.
"Junction 48" also reveals another clashing hip hop movement: When Kareem's band lands a first gig in a Tel Aviv club, he realizes most people there are fans of an extreme right-wing Jewish band. "There is definitely a strong movement of right-wing nationalist rappers among Israeli Jews. Although it's kind of a contradiction, they use hip hop to propagate hate against Arabs," Aloni explains.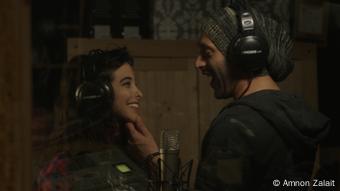 Scene from 'Junction 48'
Overcoming restrictions
As an Ashkenazi Jew, the activist Udi Aloni does not suffer from the censorship affecting many of his Palestinian colleagues: "I always say: It's a true democracy - for the Jews." He adds that he sees a more perfidious form of restriction among his Israeli colleagues: self-censorship.
The filmmaker has chosen to ward off this attitude, no matter how it could affect his career. Using his privileged position as an Israeli Jew allows him to serve as the mouthpiece of Palestinian artists and promote the creation of "a bi-national language of togetherness, a mutual space for Palestinians and Jews," says Aloni - a vision he shares with his Palestinian friend Tamer Nafar.
Despite the dark narrative portraying many of the hurdles to overcome before this ideal can be achieved, the dedication and energy conveyed by "Junction 48" is a source of hope. As Nafar puts it, "The film captures the spirit of those who fight oppression with their minds and creativity. These young dreamers are the passion behind the inevitable change."
As one song in the film goes, until that change comes, rappers will continue to "Shake the Walls."