Caravaggio on Show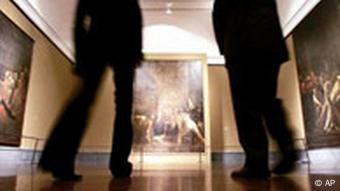 Visitors admire Italian painter Caravaggio's baroque canvases
In an intimate exhibition, the Museo Nazionale di Capodimonte in Naples is showing late works by the Baroque painter Caravaggio. The selection of 33 pieces painted between 1606-1610 include five canvases which have never been shown in public before. The exhibition also includes better-known pieces such as "Sleeping Cupid" and "St John the Baptist". Caravaggion (1571-1610), whose original name was Michelangelo Merisi, painted the works on display in Naples whilst on the run from the death sentence handed down to him for murdering his adversary Ranucci Tomassoni in a fit of rage.
Caravaggio: The last years 1606 - 1610 is showing through to January 23. The Museo Nazionale di Capodimonte is open Tuesday to Sunday from 9.30 a.m. to 7.30 p.m. Closed Monday.
London Life
German artist Gregor Schneider has created a work of art through connecting several rooms in two neighboring terraced houses in the Whitechapel district of London. In his work entitled "Die Familie Schneider", families temporarily take up residence in the identical East End homes, which become the site of an unrelenting existential confrontation. In what is his first major project in the UK, Schneider renews his obsession with repression, reproduction and repetition in a very ordinary London street.
Die Familie Schneider can be visited by appointment only. Tel: +44 7981 578754
A Feathery Affair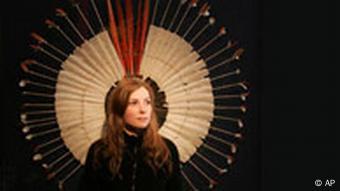 A young student poses in feathers at the Überseemuseum
Feathers are still as fascinating today as they were in ancient times. With an almost endless palette of colors, shapes and patterns, the feather's repertoire in nature is a hard act to beat. Over the years, they have become integrated into society as anything from jewellery to bedding, headwear to writing implements. The exhibition looks at feathers from a natural, ethnological and trade point of view and invites visitors to take a trip around the world between the sky and the earth.
Federn kitzeln die Sinne (Feathers Tickle the Senses) runs to April 10. The Übersee Museum in Bremen is open Tuesday through Friday from 9 a.m. to 6 p.m. and Saturday and Sunday from 10 a.m. to 6 p.m. Closed Monday.
Escape Over Sea
Following the construction of the Berlin Wall in 1961, more than five and a half thousand people attempted an escape via the Baltic Sea, but less than one thousand of them actually managed to reach the shores of Schleswig-Holstein, Denmark or Sweden. Most were caught and sentenced to several years imprisonment, whilst some perished in their pursuit of freedom. The exhibition shows an impressive collection of tools and machines used in escape efforts, including underwater motors, aqua scooters, diving equipment, surfboards, rubber boats and even home-made submarines.
Über die Ostsee in die Freiheit (Crossing the Baltic to Freedom) runs through to January 31. The Deutsch-Deutschen Museum in Mödlareuth is open Monday through Friday from 9 a.m. to 5 p.m. and weekends and public holidays from 10 a.m. to 5 p.m.
Photographic Mimicry
In her photography, Japanese artist Tomoko Sawada plays a sophisticated game with identity and masks. Her self-portraits play with characters and identities, leaving open the question of who is Tomoko Sawada? The Museum of Contemporary Art in Vienna is showing two series of her photographs under the title "Desire to Mimic", the 400 passport photo collection "ID 400" and the social study "Costume".
Desire to Mimic runs through to February 6. The Museum of Contemporary Art is open from Wednesday to Sunday from 10 a.m. to 6 p.m. and Tuesday from 10 a.m. to midnight.