A coal truck thunders past the tiny houses every ten minutes. Black dust covers the whole neighborhood, even the feathers of chickens are dark gray. Everything stinks of coal. "I can stick my finger through here," says Andries and shoves it through a hole in the corrugated iron roof of his hut. The roof is full of rust, the ground is contaminated. Andries, who declines to gives his full name, has lived in this informal settlement next to a derelict mine for 30 years. Heaps of coal are still standing on the opposite side of the road. His family suffers from chronic fits of coughing. "There is nothing we can do about it," he says.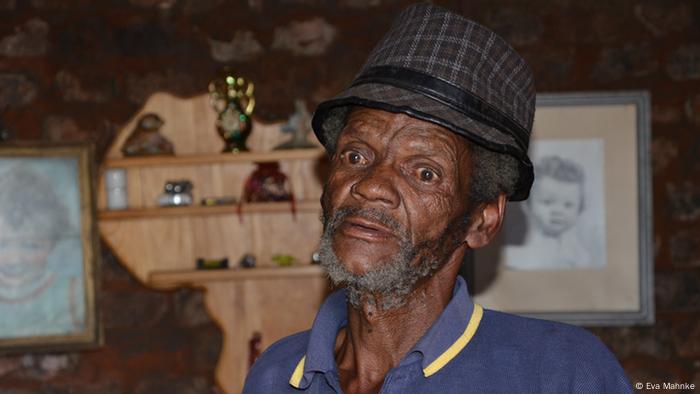 Respiratory diseases are common among residents in eMahlaleni
Some 160 mines have left pits and mounds of coal dotted around the local municipality of eMalahleni. The name means "place of coal." Around the town in the province of Mpumalanga, east of Johannesburg, there is opencast mine upon opencast mine. Steel mills and two enormous, smoke-belching power stations, which feed on this rich abundance of the fossil fuel, have sprung up nearby.
South Africa possesses enormous reserves of coal. For the last 120 years, it has supplied South Africa's mines and its industrial base with the energy it requires to exploit the nation's natural resources. This accounts for two thirds of the coal mined; the remaining one third is exported. One third of those South African coal exports are sold to Europe, 10 percent goes to Asia, mostly India and China. South African coal makes up one tenth of the coal that Germany imports. German coal imports from South Africa have increased since the start of the crisis in Ukraine.
Pollution laws flouted
Successive South African governments have chosen to ignore the harm caused by the domestic coal industry, whether it be dangerous working conditions, low pay, expropriation of land and the expulsion of those who use it, chronic respiratory diseases, or the large scale damage to the environment.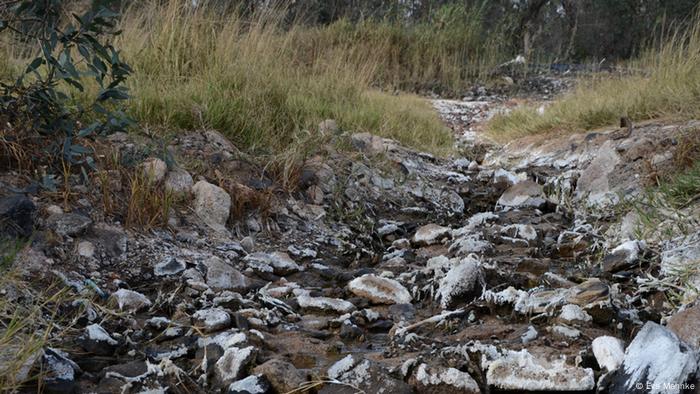 Pollutants are deposited in rivers and streams in Mpumalanga.
There are numerous laws on the statute book to curb air and water pollution, but they are not enforced. South African water law, for instance, says that the consumption of water by mine operators has to be licensed, its use and decontamination regulated. But this rule, it seems, is simply ignored. All the waterways in eMalahleni are covered with a unsightly top layer of mine effluent full of toxic chemicals.
100 mines are operating without any water use licenses whatsoever, says geographer Victor Munnik, a lecturer at the University of Witwsatersrand. The minister responsible, Edna Molewa, admitted as much when speaking in parliament in 2013. "The environment ministry and the water ministry are dominated by the mining ministry which often just brushes their concerns aside," Munnik says. The powerful mining and energy ministries ignore journalists' inquires about reports of water pollution.
Politics and business too close?
The African National Congress (ANC), the former South African liberation movement, has ruled South Africa since the end of apartheid. It has promoted the rise of black South Africans within the country's business elite, with which it maintains close ties. Many ANC functionaries also occupy top positions in corporate South Africa. "This intermingling of politics and business means that cases of environmental crime frequently do not end in prosecution," Munnik said. Corruption often reaches right down to local level.
South Africa committed itself to developing renewable sources of energy in 2001. A program for independent electricity generation was launched and over the last few years it was able to attract private investors. Yet despite a number of wind and solar power projects, independent analysts remain skeptical. Even if South Africa were to achieve the ambitious goals it has set itself for renewable energy generation, the country's greenhouse emissions would still be above the permitted limits, wrote environment scientist Miriam Buck in her survey "South Africa's energy crisis and the role of renewable energy." Two thirds of South Africa's energy needs are supplied by the burning of coal and two new coal-fired power stations are currently under construction in Limpopo and Mpumalanga provinces. South Africa already has the highest carbon dioxide emissions in Africa. The new power plants will push them up even further.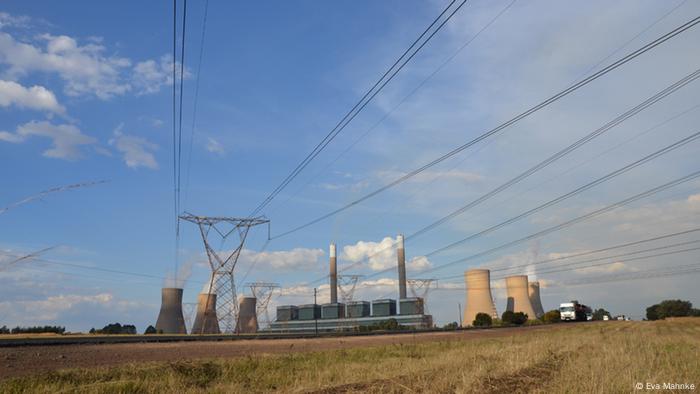 90 percent of South Africa's electricity is generated in coal-fired power stations
Climate jobs
Scientists say increases in such emissions around the globe are contributing to rises in temperatures and climate change. Extreme weather conditions are regarded as one of the consequences of climate change. Large swathes of South Africa are experiencing the worst droughts in 20 years.
Munnik believes that South Africa is siding with the "growth lobby" at the Paris climate change talks. He was referring to the conviction that economic growth and prosperity must come first, with the environmental consequences being addressed at a later date.
If politicians and large corporations refuse to take action, then it is up to the individual citizen to show more engagement. "The only thing we can really do as citizens and voters is to understand the seriousness of climate change, it is exactly our coastal line that'll be washed away," Munnik said.
Munnik supports the "One Million Climate Jobs" campaign, an alliance of rights groups, environmentalists and trade unions.
"We have 12 million people going to bed hungry at night. That's the level of poverty. So it's difficult to get a mass campaign on this issue," says campaign activist Brian Ashley.
"That's why we focus on climate jobs, meaning jobs that help to bring down our emissions of greenhouse gases and to build the resilience of our communities to withstand the impact of climate change."
Ashley hopes that with this strategy the campaign will be able to win the support of people like Andries in eMalahleni for the struggle against climate change.
Research for this article was undertaken with financial assistance from Koordination Südliches Afrika, based in Bielefeld, Germany.