It was 2009 when the first reports hit the Western media: China, the economic miracle, was erecting new cities at a breakneck speed all across the country. But nobody wanted to live in them. The pictures and anecdotes seemed to be a clear example of China's megalomania and looming real estate bubble. "But the full picture is more complicated than that, and every city tells a different story," Haishan Wu, data scientist at Baidu, China's ubiquitous search engine, told DW.
Obtaining that full picture has been a major challenge in recent years, a period when reports of ghost cities mounted. Data on the phenomenon has been hard to come by, since the Chinese government does not release vacancy rates for residential buildings. That's why researchers have often resorted to unusual methods to get a grasp of the situation, counting lights in apartment windows or analyzing satellite data.
Big Data reveals ghost towns
To get a scientifically-based overview, Wu and his team at Baidu mapped out the 50 biggest ghost cities of China, using the search engine's massive amount of usage data, in a recent study in cooperation with Beijing University.
Detracting tourist cities, which were shown to be only seasonally vacant, approximately 20 permanent ghost cities were identified. Most of them are located in the periphery of second and third-tier cities. But notably, not all of the overly vacant cities identified were named, because of the delicacy of the information.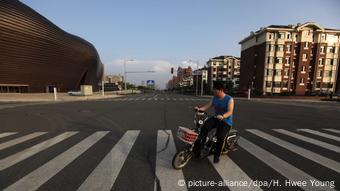 China's most famous ghost city Ordos, in Inner Mongolia, is a new addition to the existing city, called Kangbashi, supposed to house one million people
First-tier cities are economic hubs like Beijing and Shanghai, whilst second and third-tier cities are often provincial capitals. "Second-tier cities like Chengdu or Harbin do have residential areas that are under occupied. Mostly these are additions to existing cities, making them rather ghost towns than ghost cities," says Wu.
On the commercial side, office spaces even in high-profile second-tier cities like Xi'an and Chengdu are experiencing spiking vacancy rates of 40 to 50 percent. Carlby Xie, Senior Director of Colliers International China, told DW that "investors and the government alike are concerned about how slowly the real estate in these cities is selling."
State-controlled urbanization
"The original idea of these satellite cities was to decrease population pressure on the old city centers," Xie explains. With unprecedented speed, residential apartments and office spaces were built up around hubs - or near smaller cities that were supposed to become hubs. China is often cited as having used within just three years the amount of concrete the US did in the entire 20th century.
"It was and is a gigantic, unique experiment," Eduard Kögel, urban planner and expert on Chinese cities, told DW. The Chinese government intends to move 100 million people from the rural areas into cities by 2020. For this purpose, "cities and extensions get built purely based on speculation, but not on direct demand. Massive stretches are built, and it is assumed that the future growth and prosperity will somehow fill the space up."
Sometimes, this assumption seems to prove true. Zhengdong, a new district of the provincial capital city of Zhengzhou, was often reported on as one of the biggest Chinese ghost cities, housing rings of empty skyscrapers and encompassing a whopping 150 square kilometers. But the recent data gathered by Baidu suggests that it is slowly filling up with residents. "There are more and more young people working in this district of Zehngzhou, because the infrastructure has become better than in the old part of town," says Wu.
Nevertheless, in other places, the fate of these yet to be occupied spaces is unclear. "In third, fourth or fifth-tier cities, we have recorded very low occupancy rates. This stems from an overly optimistic development at a time of decelerating economy, especially in the tertiary industry," says Xie.
Examples of this can be seen scattered around the country. Cities or towns gathering the most media attention were pastiche European cities like Tianducheng, China's version of Paris, complete with a replica Eiffel tower. The city was built as a suburb of the provincial capital of Hangzhou. Years after its completion, Tianducheng reportedly remains largely unoccupied.
Lack of infrastructure and growth
According to the urban planner Kögel, "another reason for the building boom is that leasing the land out to investors to build on is a very crucial part of income for local authorities, who often lack resources." This leads to a short-sighted flow of investors building in places that the authorities then do not have enough money to supply with infrastructure, leaving inconveniently placed ghost towns.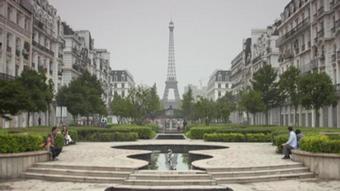 Years after its completion, Tianducheng - China's version of Paris - reportedly remains largely unoccupied
And then, there is Ordos. China's most famous ghost city in Inner Mongolia is also actually a new addition to the existing city, called Kangbashi, supposed to house one million people. The new district was built on the assumption of continuing growth, but this time almost entirely reliant on natural resources. With the crash in demand of the main source of revenue, coal, and a lack of sustainable jobs, the town is now still waiting for its residents.
Baidu's latest research in Ordos shows that true to media reports, very few people live and work in Kangbashi. "Even inside the old part of Ordos, we see the labor force declining," Wu says. Krueger observes: "It is not very probable that large masses of people will move to the new district Kangbashi in the future, it is still a true ghost city."