German Foreign Minister Guido Westerwelle made an unannounced visit to Baghdad on Saturday where he held talks with President Jalal Talabani, Prime Minister Nuri al-Maliki and other parliamentary leaders.
The talks focused on politics, as Maliki works to form a cabinet nearly nine months after elections.
"We want to send a signal of support for political stabilization," Westerwelle told reporters. "Now is the right time to do that."
Westerwelle offered Iraq "the closest of partnerships with Germany," as both sides signed an investment protection agreement. Traveling with the foreign minister was a business delegation.
Maliki told Westerwelle that Baghdad wanted to see greater involvement by Germany companies in Iraq. Investors, however, cautioned that any involvement was due to only make slow progress because of the country's volatile security situation.
Enormous potential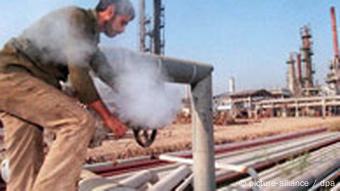 Germany sees enormous potential in the Iraqi economy
Westerwelle told the German daily Frankfurter Rundschau before his departure that the growth potential for German companies in Iraq was "enormous."
In the first nine months of this year, German companies exported goods to Iraq in excess of 700 million euros ($940 million), compared to 400 million euros during the same period last year.
Since the fall of Saddam Hussein's regime in 2003, Germany has supported the rebuilding of Iraq with some 400 million euros, in addition to billions of euros of cancelled debts.
Political deadlock
Westerwelle is the first foreign minister to visit Iraq since elections on March 7 failed to produce a government. The country has been in political disarray since, as the factions remain at loggerheads over the naming of a prime minister.
According to the Iraqi constitution, acting Prime Minister Maliki has until Christmas to form a new cabinet.
Security in Iraq, in particular since the withdrawal of US troops three months ago, remains a major problem, with attacks increasing in frequency and intensity.
Author: Gabriel Borrud, Andreas Illmer (AFP, dpa)
Editor: Martin Kuebler