"The situation is unacceptable and everyone here knows it," President Francois Hollande said in the northern port city of Calais on Monday, pledging to shutter a camp housing between 7,000 and 10,000 refugees hoping to cross the English Channel and reach Britain.
"We must dismantle the camp completely and definitively," Hollande said of the shanty town that has come to be known as "the jungle" in France and the UK. The process would move at pace, Hollande pledged, telling police securing the area that the camp would be removed by the end of the calendar year.
Jens Althoff, director of the Paris bureau of the Heinrich Böll Foundation, believes that the timeline is no coincidence, considering France's presidential election schedule.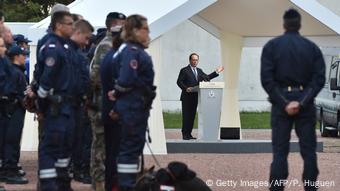 Hollande told Calais' Gendarmerie that they would stay as long as needed, perhaps after the camp's closure
"In my view, this is quite clearly symbolic politics before the campaign," Althoff told DW. "Hollande has said that he will announce in December - so after the leadership contest among the conservatives, among Les Republicains - whether or not he will stand for another term. So now, he is effectively embarking on three months of electioneering, trying to improve his chances or to see if there's any movement in his favor before he makes this decision. This step was, in my view, a symbolic one against the backdrop of this three-month campaign for the president."
Aidez-nous, Angleterre!
Symbolism may also help explain Hollande's vocal appeal to Britain - ultimately the beneficiary of the jungle refugee camp's existence - to pull its weight in the port city. As neither a member of the open-border Schengen zone, nor a country that agreed to EU plans for refugee quotas among European members, Britain is not an easy country for refugees to reach. Many in the jungle hope to smuggle themselves across on heavy goods vehicles as they cross the Channel transporting cargo.
"It's a peculiar situation, Calais, because you have a concentration of refugees and they come here not because they particularly want to settle in northern France, but because they are hoping to make it to Britain, which doesn't want to welcome them," says Philippe Marliere, professor of French and European politics at University College London. "At the moment I think Britain doesn't do much to help, but at least it gives money, I understand, quite a lot of money to secure the place."
That money is becoming visible in the form of a wall designed to stop refugees from approaching the entrance to the undersea Channel Tunnel; construction began last week.
Under a deal signed in 2002, Britain's official border crossing post was moved from the shores of south-east England to French soil, with France carrying out many of the controls. Precisely what "Brexit" - the UK leaving the EU - will mean for this bilateral accord signed between two EU members remains unclear.
The proximity to Britain and to a large part of cross-Channel traffic has long made the region a hot-spot for refugees - with the Sangatte camp near Calais coming to prominence in the 1990's as a base for people looking to flee the Balkan Wars for Britain.
Nicolas Sarkozy closed that camp during his time as interior minister. Hollande's visit came just days after Sarkozy pledged beefed-up border controls around France to stop the country from being "flooded" with migrants. Of the two front-runners for the nomination from Les Republicains, Sarkozy is painting himself as the hard-liner, with Bordeaux mayor Alain Juppe trying to strike a softer note.
Three-way battleground in national elections
Like much of northern France, Calais has undergone quite a political shift in recent years, turning the north-east into a key battleground for presidential elections in April and May next year. Front National leader and presidential candidate Marine Le Pen sought to become the city's mayor in December's municipal elections, missing out to a conservative despite an extremely strong showing in the first round of voting.
Calais and the wider region Nord-Pas-de-Calais remains a densely-populated and somewhat run-down area with industrial difficulties, what's changing are people's voting habits.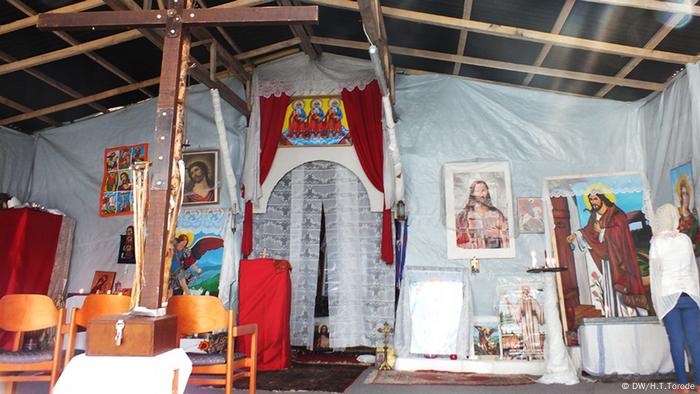 Structures like this Orthodox church, known as St Michael's, show how semi-permanent the jungle has become
"When you think that a town like Calais used to be run for a very long time by a communist mayor - so a very left-wing city sociologically and politically - now it's run by a conservative Les Republicains mayor, and the FN is strong there too," Marliere tells DW, saying that Marine Le Pen and her far-right Front National is now reaping the benefit of a long-term strategy to woo disgruntled voters.
"It shows above all that the population, who used to be very faithful to the left and [Hollande's] Socialists, have given up on them," Marliere says. "And of course Le Pen and the Front National have been shrewd enough to understand that. They have put in place local people, people who know the towns and the locals, and have also adapted the traditional FN rhetoric. In the south it's a bit different, but they've adapted it to give it a more social ring, so that it can really attract and appeal to a working class which comes from the left."
Althoff agrees that the FN has rather split its strategy, playing a more racially-charged deck in its traditional stronghold in the south.
Based on current opinion polls, a conservative candidate is favorite to win France's election next year, ahead of the FN's Le Pen, with Socialist incumbent Hollande currently a distant third if he were to stand again. Only once, in 2002, did the FN manage to reach the second-round runoff in a French presidential vote; that was also at the expense of a Socialist nominee, Lionel Jospin.