As Borussia Dortmund's players stretched their legs on the Signal Iduna Park turf ahead of a golden opportunity to secure Champions League football next term, those in the stands allowed themselves a few moments to reminiscence.
The fans standing on the famous Südtribüne unfurled a banner thanking Roman Weidenfeller, who was named in a Dortmund squad at their home for the last time, with retirement imminent after 452 games for the club. But the 37-year-old goalkeeper had to make do with a spot on the bench, a familiar feeling since Jürgen Klopp was replaced by Thomas Tuchel in 2015.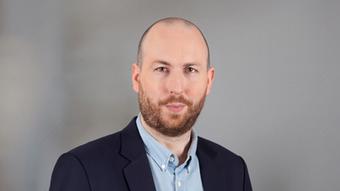 DW's Matt Pearson
That trip down memory lane was rudely interrupted just four minutes in to the game when Ridle Baku scored his second goal in his second Bundesliga game, slamming home after Mainz cut through Dortmund's feeble defensive efforts.
It would quickly get worse for Peter Stöger's side, who were again carved open nine minutes later, Yoshinori Muto escaping Ömer Töprak's attentions and beating Roman Bürki, the man who displaced Weidenfeller, to Pablo de Blasis' cross.
Though Max Philipp pulled one back for the hosts after an outrageous drag back and low cross from Jadon Sancho, the men in the brand new version of the storied yellow and black shirt bore little resemblance to the Klopp sides Weidenfeller featured in - the sides that won four major trophies and reached a Champions League final five years ago.
Familiar faces
Once Weidenfeller moves on, fullbacks Marcel Schmelzer and Lukasz Piszczek and midfielder Nuri Sahin (on loan at BVB at the time) will be the only members of that squad that have remained with the club since that 2013 showpiece.
Mario Götze and Shinji Kagawa have tried their hand on bigger stages and returned diminished, Schmelzer has been dropped after a string of dreadful displays, Piszczek has also played a part in Dortmund's marked defensive decline and Sahin is a fringe player these days, and another who looks a shadow of his former self.
With the arguable exceptions of Götze and Kagawa, Dortmund's uneven season, which hit another low on Saturday, has shown up a difficult truth; that the remnants of the Klopp era no longer cut it. The defeat to an impressive and energetic Mainz outfit, who confirmed their safety with the three points, means Dortmund must avoid away defeat to a Hoffenheim side one place below them in fourth next week to assure Champions League qualification.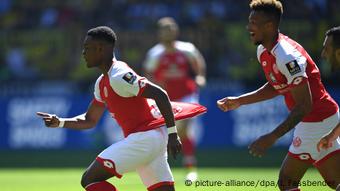 Mainz secured safety with their win
Big decisions in store for next boss
Addressing the issue of the decreasing relevance of the group who have for so long been BVB's senior players will be close to the top of a long list of issues for whoever becomes the club's next permanent coach.
It's becoming increasingly clear that won't be Peter Stöger. BVB have won just four points from their last four games at the business end of the season and, a stunning dismantling of Bayer Leverkusen aside, he's failed to find a footballing formula that pleases the fans. Indeed, Dortmund can count themselves lucky that the sides around them - rivals Schalke aside - have been so inconsistent.
But decisions on a new man at the top will have to wait another week. As the whistle blew on a third home Bundesliga defeat of the season, the boos on the Südtribüne turned to cheers as Weidenfeller clambered over a metal fence to join those who'd honored him.
The long-serving keeper accepted a beer and a microphone and led the chants and, for a moment at least, the past was again more important than the present. That's not a situation Dortmund can allow to last much longer.