In Wednesday evening calls to German Chancellor Angela Merkel and French President Francois Hollande, May stressed that her government would need time before beginning the talks.
"On all the phone calls, the prime minister emphasized her commitment to delivering the will of the British people to leave the European Union," a spokeswoman for May said.
"The prime minister explained that we would need some time to prepare for these negotiations and spoke of her hope that these could be conducted in a constructive and positive spirit."
'Spirit of friendly relations'
Merkel was said to have wished her British counterpart good luck. The chancellor's spokesman Steffen Seibert said the pair had "agreed that cooperation in the spirit of the proven friendly relations between both countries should be continued, including in the forthcoming negotiations on Britain's exit from the EU."
Merkel, to whom May has been likened, has urged the EU to give Britain time before the start of formal talks, but has also said Britain should rapidly clarify the sort of relationship it wants with the EU.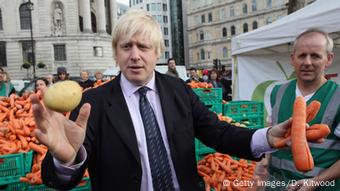 Many see Boris Johnson as a comic character, but May showed clear faith in the former journalist
In his own phone call with May, French President Francois Hollande was said to have urged the British premier to pull her country out of Europe quickly.
"They agreed to actively develop the bilateral relationship that warmly unites France and Britain in all fields," Hollande's office said in a statement.
"The president repeated his desire that negotiations for Britain's exit from the European Union should be launched as quickly as possible," the statement said.
Brussels urges swiftness
May has also faced immediate pressure from European Parliament President Martin Schulz and European Commission President Jean-Claude Juncker, who urged May not to delay the Brexit divorce proceedings.
To formally begin the process, May would have to invoke Article 50 of the Lisbon Treaty, which would set the clock ticking on a two-year countdown to the UK's final departure.
Shortly after taking office formally, May made a number of appointments to her cabinet on Wednesday evening, giving the task of negotiating Britain's exit from the EU to Euroskeptic Conservative veteran David Davis.
The new prime minister, who had publicly supported Britain's continued EU membership alongside former Prime Minister David Cameron, also appointed leading "Leave" campaigner Boris Johnson to the role of foreign secretary.
Liam Fox, also an opponent of Britain's membership of the EU, was appointed minister for international trade, reflecting changed priorities after the referendum in which 51 percent of Britons voted to leave the bloc.
rc/bw (AP, AFP, dpa, Reuters)