Bradlee died at his home of natural causes, the Washington Post reported, paying tribute to the editor that made the paper a cornerstone of US journalism.
On its website, the newspaper hailed Bradlee for leading "The Post's transformation into one of the world's leading newspapers."
The paper issued an editorial tribute on Twitter:
Bradlee was editor of the newspaper from 1968 to 1991. It was in the early 1970s that he set young journalists Bob Woodward and Carl Bernstein the task of investigating the Watergate affair.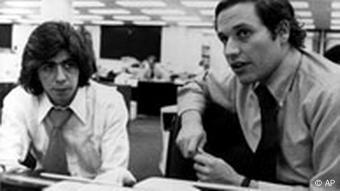 Woodward and Bernstein began an investigation that toppled a presidency
The pair spent months looking into an election-year break-in attempt at the opposition Democratic Party headquarters.
Their reporting of the Watergate scandal uncovered a vast surveillance and dirty tricks operation, and the coverage - including the discovery of incriminating tapes - led to the impeachment and resignation of Nixon in 1974, as well as the prosecution of dozens of administration officials.
In an enduring partnership with publisher Katharine Graham, Bradlee also took a stand for press freedom in 1971 with his involvement in the legal battle that led to the publication of the Pentagon Papers - which documented the political maneuvers that led to the Vietnam War.
rc/lw (AP, AFP,dpa, Reuters)