Indonesia is demanding an explanation from the United States after one of its military generals was denied entry into the US over the weekend.
Armed Forces Commander General Gatot Nurmantyo was preparing to board a flight to Washington on Saturday when he was told by the airline that the US Customs and Border Protection agency had denied him entry into the country.
Nurmantyo had been invited to attend a security conference in Washington by General Joseph Dunford (above), chairman of the Joint Chiefs of Staff, one of the most powerful military officials in Washington.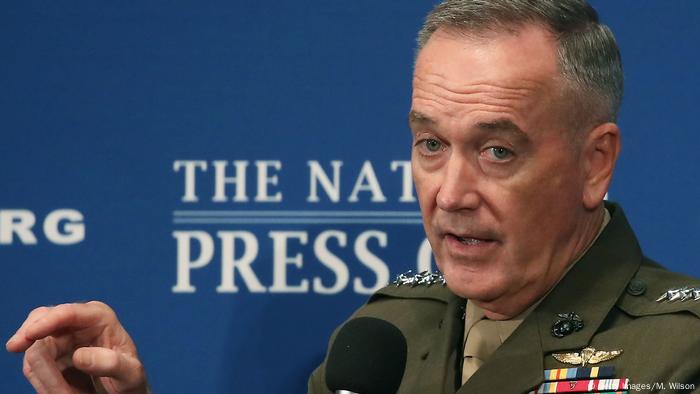 Nurmantyo was set to meet US General Joseph Dunford
It's unclear why Nurmantyo was denied entry and Foreign Ministry Spokesman Arrmanatha Nasir said the Indonesian embassy in Washington had sent a diplomatic note to the US State Department seeking an explanation.
The US embassy in Jakarta issued a statement saying it was in contact with Nurmantyo's staff and was attempting to facilitate his travel to the US, but didn't provide further details.
"US Ambassador Joseph Donovan has apologized to Foreign Minister Retno Marsudi for any inconvenience to General Gatot," the embassy wrote. "We remain committed to our Strategic Partnership with Indonesia as a way to deliver security and prosperity to both our nations and peoples."
A general with political ambitions
Brigjen Wuryanto, an Indonesian military spokesman, said Gen. Nurmantyo, his wife and an entourage of four officials all had US visas and that the general had last visited the US in February 2016.
Nurmantyo was due to attend a Chiefs of Defense Conference on Countering Violent Extremism Monday and Tuesday in the US capital.
He was also scheduled to participate in a forum organized by the Center for Strategic & International Studies in Washington.
Nurmantyo is a controversial figure in Indonesia because his actions and words frequently suggest he has political ambitions. He has promoted the idea that the Indonesian archipelago is besieged by "proxy wars" orchestrated by foreign countries.
Indonesia is the world's largest Muslim-majority country, and generally enjoys good relations with the US, however, relations between the two countries' armed forces have occasionally been strained by alleged rights abuses involving Indonesia's military, but Nurmantyo himself has not been accused of rights violations.
bik/ng (AP, Reuters, AFP)