The current political tensions between Germany and Turkey are having an influence on social relations – including the student exchange program, Erasmus. German students going to Turkey with Erasmus have been affected, with some even changing their minds at the last minute and remaining in Germany. Others who decided to go ahead with their exchange were often met with dubious reactions. DW spoke with four students in Istanbul. Here are their stories.
'I was told I could end up in jail'
Verena is 23 years old. In Germany, she studied social work and education at the Goethe University in Frankfurt. An Erasmus stay is an obligatory part of her studies. Verena has been studying abroad at Istanbul's Aydin University since September. Although her exchange semester is scheduled to end in January 2018, she would like to stay longer because she likes Istanbul so much. She has already submitted a request for an extension. "I don't like large crowds, but life in Istanbul is just wonderful," says Verena.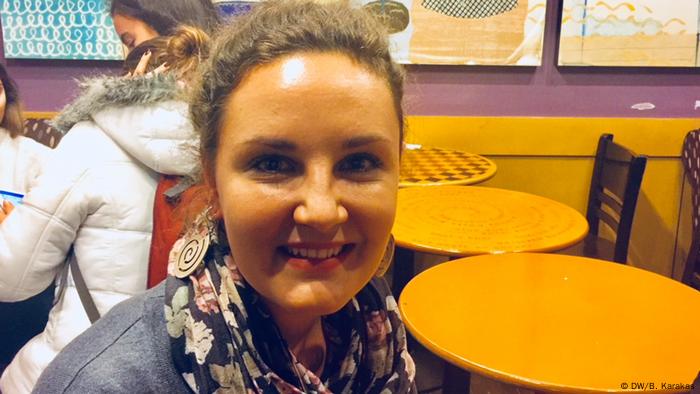 Verena wants to extend her stay in Istanbul
Verena could have gone to the Netherlands, Spain or Switzerland, but she chose Turkey even though she had never been there before. The main reason was her curiosity about the country. But the reactions of her family and friends were not encouraging.
"My friends who heard about my trip to Istanbul asked me: "Are you stupid? Don't you know how dangerous it is there? You could end up in jail." Even at Frankfurt airport, one of the ground staff said to me, "Don't be stupid – don't go to Turkey."
But these reactions made her even more curious. A former Erasmus student, who had already been to Istanbul, told her that the city is very beautiful and that she should definitely go.
'Distancing yourself from a country is not a solution'
Malte is also spending his exchange semester in Istanbul, in his case at Bogazici University. In Germany, the 25-year-old studied economics at Berlin's Humboldt University. He regrets that he can only stay in Istanbul for one semester. For Malte, it is an exciting and interesting city, and that is why he came. He likes the liberal atmosphere at Bogazici.
When he received his confirmation of the exchange to Turkey last year, he said he had concerns about going to Istanbul. He said his family in particular had been very worried about him, but finally had to accept his decision. "Clearly, it is not very reassuring to see that journalists are being arrested here, but distancing yourself from a country and isolating it is also not a solution."
'The crisis between the two countries won't get any bigger'
Pascal, who is 23, has come to Istanbul's Bilgi University from Heidelberg for a semester. He studies political and economic sciences.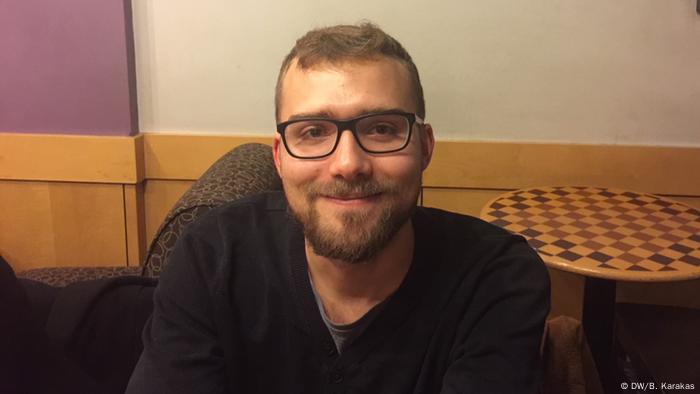 A student of political science, Pascal wants to form his own views on life in Turkey
The German media reports about Turkey were not enough for him to understand what has really happened in the country. He came to Istanbul so that he could form an idea of the country for himself. However, his family, especially his father, was very worried.
"My father kept telling me, "Don't trust anyone!" He was imagining there would be policemen everywhere in Turkey, and it would be like it was in former communist countries."
Istanbul has exceeded his expectations, he says. He thought that he would find a city full of depressed people. His fellow students at the university have no political concerns. On the issue of German-Turkish relations, he says: "Turkey has the means to get out of this crisis. But this crisis is not going to get any bigger, because both countries are dependent on each other."
'I don't get bored here'
Dominique is 24, and like Verena, she came to Istanbul's Aydin University from Frankfurt as an Erasmus student. Turkey was not her first choice, she admits. In retrospect, however, she is very happy to be here. She says she loves the vibrancy of the city and never gets bored. Unlike other German students, her parents had different concerns about her destination. "My parents were afraid of earthquakes," she says.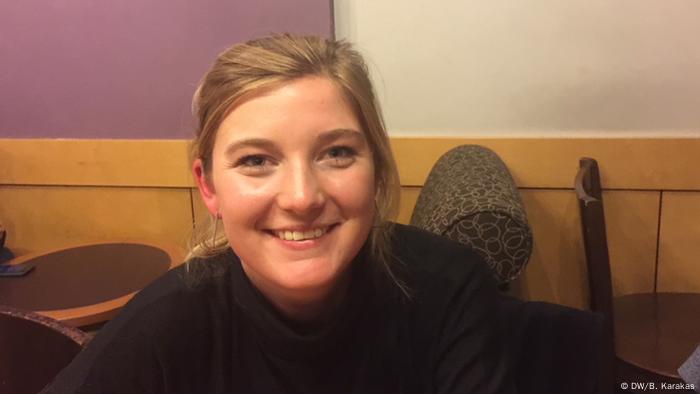 Turkey was not her first choice, but Dominique is happy to be in Istanbul
As a German studying in Turkey, she says she has had no problems in Istanbul, although not everyone she's met are fans of Germany. "We once went to an island by ferry. The captain invited us for tea and then asked where we were from. When we said we were Germans, he pulled a long face, but was still friendly."