Voters who were unable to cast their ballot because of technical problems returned to polls on Sunday, in a second, unplanned day of voting that threatened to cast a discomforting light on the democratic process in Nigeria.
"This is a huge national embarrassment," said Nigeria's ruling People's Democratic Party (PDP), after President (and party head) Goodluck Jonathan couldn't cast his vote due to a malfunction as he tried to register on Saturday.
According to the country's electoral commission, at least 300 of the 150,000 polling stations were opened early on Sunday to authorize voters after handheld devices (pictured above) with biometric identity recognition technology failed.
Jonathan's party said repeatedly throughout the campaign that the technology should not be used as it was untested and there were questions about officials' ability to use it. The main opposition party, All Progressives Congress (APC), backed the new system to curb vote-rigging - which has marred previous elections.
Beheadings, drive-by shootings, bombings
The issue of technology wasn't the only problem on Saturday, however, as millions headed to polls in an election that was pushed back six weeks due to security concerns over the Boko Haram insurgency in the northeast of the country.
Borno state Governor Kashim Shettima said on Saturday that a group of militants had killed at least 23 people in the remote village of Buratai in the southeast of the state on Friday. Up to 41 people were killed on Saturday, according to various news agencies.
"I received a report that people have been killed at Burati town and five people injured. My Commissioner of Education participated in the burial of those killed," Shettima told journalists after voting in Saturday's election.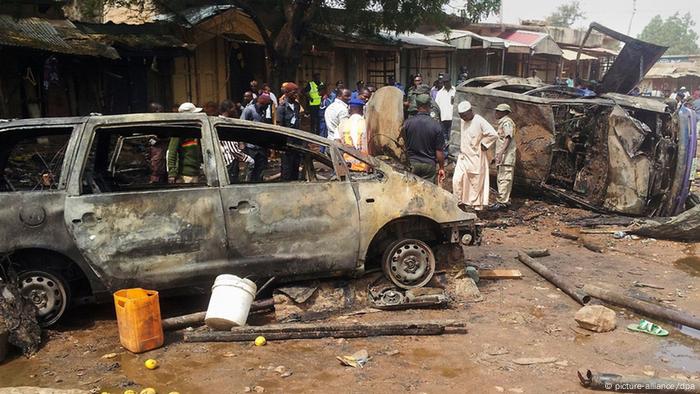 Reports of sporadic violence across Nigeria blemished Saturday's vote
Despite a plea on Friday from UN Secretary General Ban Ki-moon for transparent and peaceful elections, violence also broke out elsewhere in Nigeria on Saturday. At least seven people were killed in a string of shootings, which witnesses blamed on Boko Haram militants in the state of Gombe. Three of the attacks were at polling stations.
Three people, including a soldier, were also fatally shot in southern Rivers state, and two car bombs exploded at polling stations in the southeast. According to police, no one was injured.
Following the announcement of the results in Nigeria's 2011 presidential election, 1,000 people were killed in ensuing clashes.
glb / sms (Reuters, dpa, AFP)