Cameroon, Nigeria and the UN refugee agency UNHCR have signed an agreement for the return home of 85,000 Nigerians who fled to Cameroon to escape attacks from the Islamist militant group Boko Haram.
"The agreement lays out the legal framework for the eventual voluntary return of Nigerian refugees who are living in the far north of Cameroon," Roselin Okoro, the UNHCR's deputy representative in Cameroon told DW.
Okoro said the signing of the agreement does not mean that refugees would start returning automatically.
Flight from Chibok
Boko Haram is still seen as a threat to Nigeria, despite claims by the military that it has reclaimed territory it once occupied and cleared some of its bases. The International Organization for Migration said on Wednesday that an estimated 4,449 people had fled from the town of Chibok "seeking safety following attacks or the threat of attacks" since February 25.
Chibok become a global symbol of the insurgency after Boko Haram militants kidnapped more than 200 teenage girls from their school in the town in April 2014.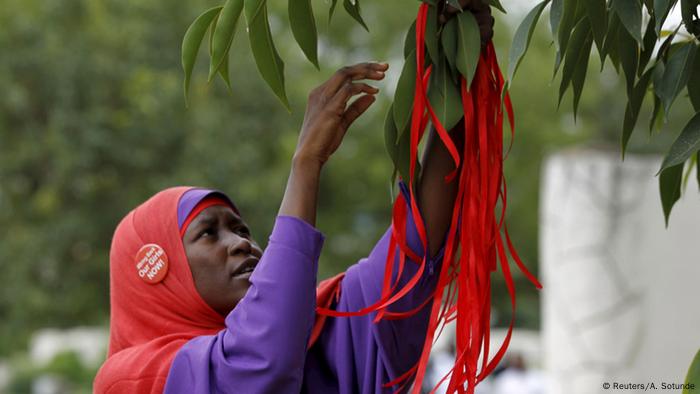 A girl ties red ribbons around a plant to mark the second anniversary of the kidnapping of the Chibok girls.
The Boko Haram insurgency began in 2009 and has claimed at least 20,000 lives. 2.6 million people have been displaced, both internally and to neighboring countries. Some of the displaced may wonder whether it might be premature to return home.
Okoro emphasized that the return home for Nigerian refugees in Cameroon would be "voluntary and on the basis of an individual decision."
The UNHCR would also provide displaced persons with information about conditions in the area to which they were thinking of returning.
UN Security Council visit
The tripartite deal comes amid heightened international concern generally about developments in the Lake Chad region, which Swedish diplomat Carl Skau said had been hit by "a perfect storm" of challenges: "terrorism trafficking, serious underdevelopment, but also the effects of climate change."
Fifteen ambassadors from the UN Security Council began a visit to the region on Thursday, possibly paving the way for tougher action by the Council on a crisis affecting 21 million people which one envoy said had been "largely overlooked."
Last week fourteen countries pledged $672 million (639 million euros) to a Lake Chad funding appeal at a donors' conference in Oslo. The UN says it needs $1.5 billion.