The implementation of the plan, dubbed the "Together Strategy 2025," will see "double-digit billion investments," according to VW CEO Matthias Müller at a press conference at the company's headquarters in the German town of Wolfsburg.
Müller admitted to the company having had its "major weaknesses exposed" in the wake of the "shake-up" from the scandal about it having fitted 11 million of its diesel cars with emissions test cheating software.
"The catchwords here are structure, culture, efficiency," said Müller. Later, he said "the current crisis is a catalyst for us. Readiness for change has grown considerably."
The famously autocratic management style of Müller's predecessor Martin Winterkorn is considered by many to have been one of the factors that led to the cheating.
VW engineers and technical staff found themselves under pressure to push the carmaker all the way to the top of the industry.
This time, Müller has announced an effort to "establish a culture that is open and value-driven." Apart from changing its corporate culture, Müller is also seeking a "massive transformation" of VW's core business of developing and building vehicles, based on driving forward innovation - some of it outsourced.
"We will harness outside impetus by relying on acquisitions on venture capital investments in the future," said Müller. "We no longer have the illusion we can do everything better or by ourselves. For an engineering-driven company such as ours, that's a paradigm shift."
E-cars, driverless cars
Volkswagen announced that it would launch more than 30 battery-powered electric vehicles over the next 10 years, and that it was anticipating sales of 2 to 3 million e-cars by 2025 - or around 20 to 25 percent of total sales volume.
Müller said battery technology would have to be among its core competencies if that's going to be become a reality. At the moment, e-car manufacturers rely heavily on external battery producers.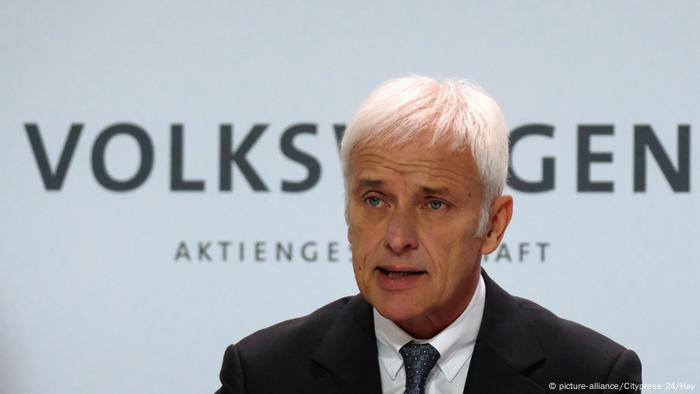 Can VW CEO Müller keep VW on course?
And fully autonomous cars with self-driving systems also figure prominently in VW's unveiled strategy, with VW's own in-house developed model targeted for a market launch in 2021, helped along by 1,000 additional software specialists to be added to the carmaker's workforce.
"We are making autonomous driving and AI core technologies of the VW Group," said Müller. The move comes as competition heats up from tech companies crossing over into the auto industry, such as Google and Apple.
Ride-hailing
The carmaker is also seeking greater relevance in mobility services solutions, setting up a specialized business unit to be headquartered in Berlin.
First inroads into the mobility services business were made via its $300 million (267 million euro) investment in ride-hailing app Uber's rival Gett.
Müller called it the nucleus of VW's expansion in the area, aimed at bringing in multibillion-euro revenues by 2025.
"The cars will have to come from somewhere, and they will have to come from us. We are working on setting up strategic networks that depend on us," said Müller.
"The first step has been taken with Gett, as far as ride-hailing is concerned, we have bet on the right horse." Volkswagen is targeting a 7 to 8-percent profit growth by 2025, which Müller called "appropriate, ambitious, and at the same time realistic."
The payout to shareholders is to be maintained at around 30 percent of net profit, he said. In April, VW posted its first annual loss in more than two decades for 2015, after setting aside over 16 billion euros to cover potential costs relating to the emissions scandal. In the first quarter of this year, the 12-brand group saw net profit slump 20 percent to 2.31 billion euros.