Rafael Ramirez, Venezuela's ambassador to the UN, on Tuesday announced his resignation after being instructed to do so by Venezuelan President Nicolas Maduro.
Ramirez, who served as oil minister and chief of state oil company PDVSA under Maduro's predecessor Hugo Chavez, said he expected such a request after writing opinion pieces critical of the president's handling of Venezuela's economy.
Read more: Could there be a Venezuelan refugee crisis?
"At the request of the president of the republic, I have resigned from my position as ambassador and permanent representative of Venezuela to the United Nations," Ramirez said. "I have been removed for my opinions. Whatever happens, I will remain loyal to Commander Chavez."
According to sources close to Ramirez, he left the US after resigning. Venezuela's president appointed former Foreign Minister Samuel Moncada, seen as a Maduro loyalist, to take on the UN ambassador role.
Ramirez's resignation comes days after Venezuelan military arrested two of the former ambassador's allies, Eulogio del Pino, who served as oil minister, and Nelson Martinez, who headed the state oil company.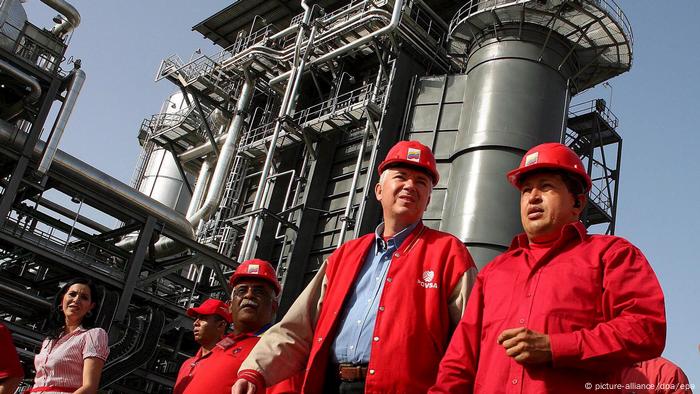 Seen here with the late Hugo Chavez, Rafael Ramirez was instrumental in centralizing Venezuela's oil company
Growing purge
Venezuela's chief prosecutor said the arrests were part of an operation targeting 16 people aimed at dismantling "a cartel of organized crime that had taken over PDVSA."
Del Pino and Martinez are the highest-ranking officials to be swept up in an anti-corruption purge at the state oil giant. Both men were accused of graft and attempting to sabotage the country's energy industry.
Read more: Venezuela's rivals restart talks to resolve political crisis
However, analysts and opposition lawmakers believe Maduro is attempting to consolidate power across key institutions. Maduro has witnessed support for his presidency plummet after his government failed to redress an ever-growing economic crisis despite hosting the largest oil reserves in the world.
The Venezuelan president appointed Manuel Quevedo, a former general, to replace del Pino and Martinez. The military has been instrumental in preserving Maduro's government, with at least one-third of the cabinet filled with current or former military officers.
Gearing up for presidential run
Last week, Maduro announced he would seek a second term in elections slated for 2018. "We will have – God willing, people willing – the re-election of our brother Nicolas Maduro as president of the republic," said Venezuela's Vice President Tareck El Aissami.
Maduro's government has struggled to pull the country out of economic downturn following the collapse of oil prices, while US sanctions have made it harder for the country to operate in international credit markets.
Read more: Venezuela introduces 100,000 Bolivar bill worth $2
Earlier this month, Caracas stopped short of defaulting on its international loans after Russia agreed to restructure $3.15 billion (€2.67 billion) of debt the country took out in 2011 to purchase Russian weapons.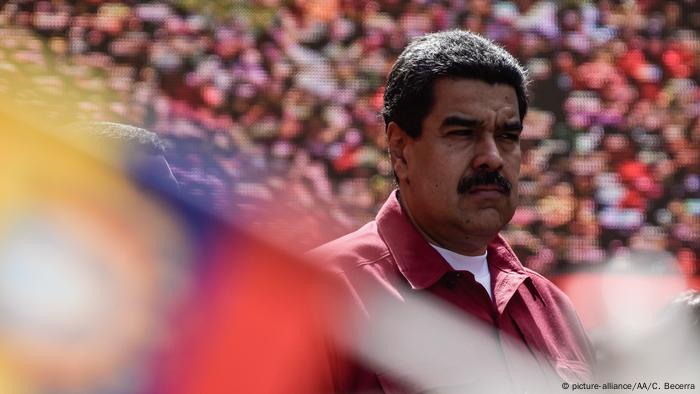 Analysts view the Venezuelan government's latest arrests as a pre-election purge aimed at shoring up support for President Nicolas Maduro
ls/jm (Reuters, AFP, EFE)