The expected move comes a day after the United States imposed sanctions against seven government officials in Venezuela for allegedly violating the human rights of individuals who took part in anti-government protests last year.
"President Barack Obama, in the name of the US imperialist elite, has decided to personally take on the task of defeating my government, intervening in Venezuela, and controlling it from the US," Nicolas Maduro said late on Monday night.
"Obama took the most aggressive, unjust and poisonous step that the US has ever taken against Venezuela," he added.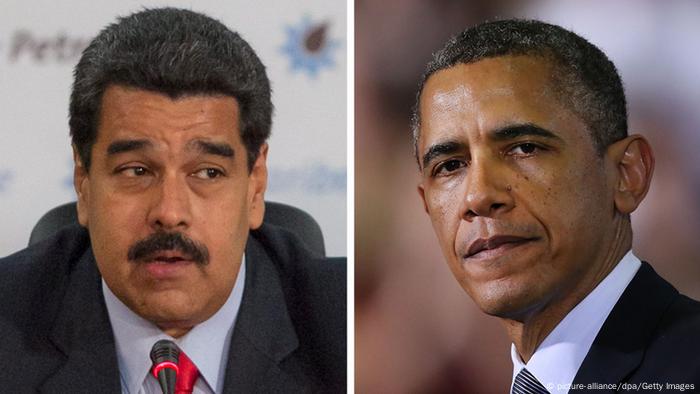 Nicolas Maduro and Barack Obama
In response, Maduro appointed one of the officials involved, Gustavo Gonzalez Lopez, as interior minister. But he announced further steps as a response to the sanctions.
Maduro said he would formally request expanded powers from the ruling party-controlled Congress.
He didn't specify which legislative powers he plans to request or how he would apply them, but the lawmakers were expected to take up the measure on Tuesday.
Opposition politicians in Venezuela warned that special powers could allow Maduro to declare a state of emergency or to suspend the legislative election scheduled for later this year.
"You wonder why the administration even needs enabling laws, given that they control the National Assembly," said opposition leader Maria Corina Machado.
"This shows that they do what they want with public institutions and the National Assembly is just window dressing for a regime that is a dictatorship."
jil/jr (AP, AFP, dpa)