Speaking on Sunday, President Nicolas Maduro insisted his country would "never" default on the country's $150 billion (€129 billion) debt.
"Our strategy is to renegotiate and refinance all the debt," Maduro said during his weekly television speech. He highlighted talks with allies China and Russia
Negotiations with China were "moving along perfectly," the president said. Venezuela owes China $28 billion and Russia $8 billion.
In the last three years Russia has provided Caracas with $10 billion in financial assistance, and last year energy giant Rosneft took a 49.9 percent stake in Citgo, the Venezuelan state oil company's refining subsidiary in the United States.
In a fourth year of recession with food shortages, soaring prices and a collapse in the bolivar currency, the once powerful oil-producing state was warned by the International Monetary Fund (IMF) over gaps in economic data and transparency earlier this month.
Inflation is forecast to reach more than 2,000 percent next year, up from 653 percent this year.
EU adopts sanctions against Venezuela
Adding pressure on Venezuela, European Union foreign ministers agreed on Monday to ban arms sales to the country and to set up a legal framework to sanction individuals through asset freezes and travel restrictions.
"These measures will be used in a gradual and flexible manner and can be expanded, by targeting those involved in the non-respect of democratic principles or the rule of law and the violation of human rights," the EU foreign ministers said in a statement.
"These measures were designed not to harm the Venezuelan population whose plight the EU wishes to alleviate."
Key meeting
As the Venezuelan government runs out of funds, the newly created debt renegotiation committee has invited creditors to come on Monday to the government's 'White Palace' opposite the presidential building, Finance Minister Simon Zerpa said on Saturday. The creditors hold some $60 billion in junk bonds to Venezuela.
"Once again, we invite investors to register their participation in this meeting," Zerpa, who is also the head of state oil company PDVSA, said in a tweet. No agenda or plan for discussion was proposed.
The IMF issued a warning earlier this month to Caracas for failing to provide economic data on time and gave it six months to address the lack of some statistics. If it did not improve the data flow, the IMF could issue a "declaration of censure."
Venezuela has found an ally in Russia, which objected to the IMF Board's warning and also agreed last Wednesday to restructure $3 billion in loans, allowing Caracas to meet other obligations, including a $1.2 billion payment on a national oil company bond due last Friday.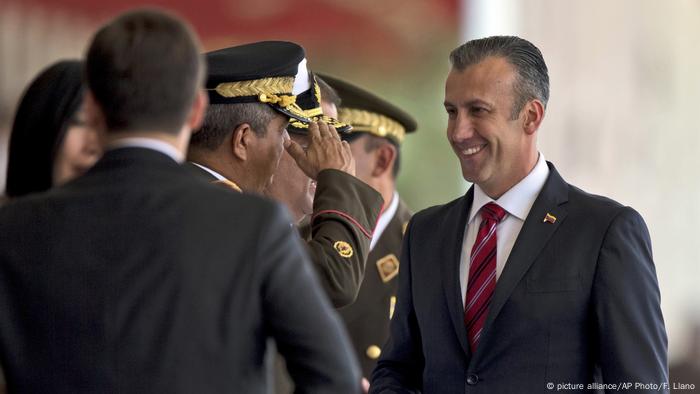 Vice President Tareck El Aissami
Sanctioned committee members
Zerpa is one of the six men in charge of negotiating a deal on the estimated $150 billion of Venezuela's outstanding foreign debt. He is also under US sanctions for alleged corruption.
The head of the committee, Vice President Tareck El Aissami, has been accused by Washington of drug trafficking.
Both men have denied the accusations, but due to the US sanctions, there could be legal repercussions for anyone meeting or doing business with them. US laws ban business dealings with people officially under US sanctions, and anyone doing so could in theory face up to 30 years in jail.
The sanctions also effectively bar US banks from rolling over the South American country's debt into new bonds.
This may have consequences for the attendance of Monday's meeting, but it has also raised questions over whether Maduro wants to refinance the debt.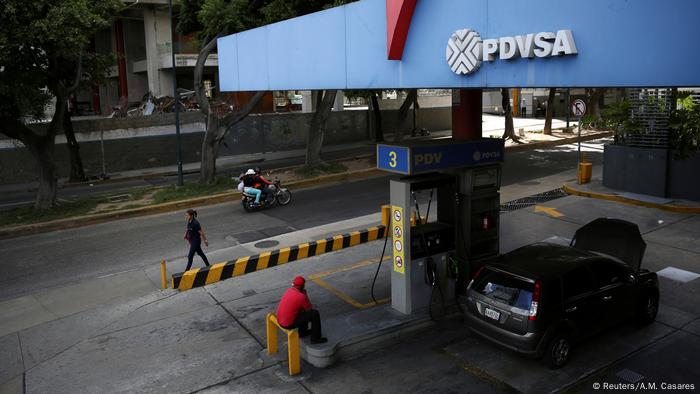 A state oil company PDVSA gas station in Caracas
Preparing for a default?
Some analysts have suggested Maduro may be preparing the ground for a default, after which he would blame Washington's policies and sanctions. The US Treasury Department sanctioned 10 current and former Venezuelan government officials on Thursday as part of the Trump administration's broader crackdown on the South American state.
US sanctions put in place in August also restrict trading of Venezuelan bonds sold by the government in American financial markets.
Ending Venezuela's debt payments would set off the biggest default in history.
For a default to occur, the Venezuelan and international institutional holders of 25 percent of the value of the bonds would have to take action.
Speaking on television last week, El Aissami called on investors to discuss debt restructuring at the meeting on Monday, which is also the deadline for almost $300 million in outstanding bond interest payments.
It is unclear what the commission is proposing to investors, either for the payment of their bonds or restructuring of Venezuela's debts.
rs, jm/kl (AP, AFP, dpa, Reuters, EFE)