Thousands of people dressed in white shirts walked in silence towards the headquarters of the Catholic archdiocese in Caracas on Saturday as they honored the 20 people who have died in three weeks of protests.
After heated negotiations with security forces blocking their way, the protesters were allowed to complete their march. Police fired tear gas to disperse a group of protesters trying to join the march but there were no reports of violence, deaths or injuries.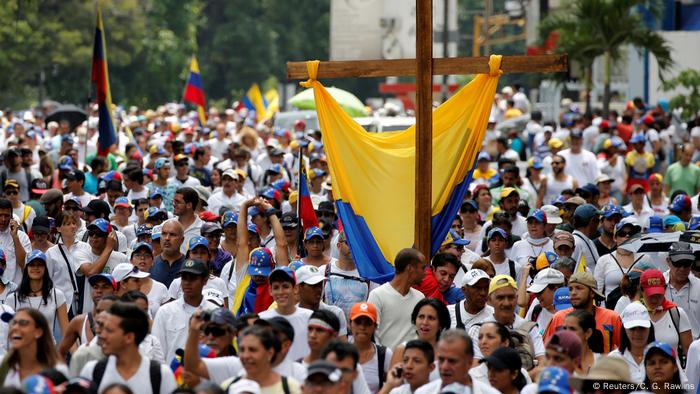 Demonstrators dressed in white shirts to honor those who died
Three weeks of protests have seen riot police and pro-government vigilantes take on opposition protesters throwing stones and Molotov cocktails.
"We want free elections, we want to get rid of this corrupt government," said Iomira Barrios, an environmental consultant who says she can no longer find work. "Right now people are willing to fight, because they have declared a dictatorship and we cannot allow it."
Opposition to the government of President Nicolas Maduro has been growing, even among the poor who were the strongest supporters of his predecessor and mentor Hugo Chavez.
Economic woes
Once generous social programs funded by high oil prices have been curtailed as the world oil price fell and the economy has spent three years in recession. Oil accounts for 95 percent of foreign-currency earnings.
There are shortages of basic goods and food, leading to long lines outside shops as people wait to buy what little there is available.
In its World Economic Outlook, the International Monetary Fund (IMF) wrote "Venezuela remains mired in a deep economic crisis." Unemployment has risen from 7.4 percent in 2015 to 25 percent this year and could rise to 28 percent next year.
Inflation may reach 720 percent this year, according to the IMF and could rise to 2,000 percent by 2018.
Opposition assembly leader writes to banks
The opposition, via National Assembly President Julio Borges, has written to leading international banks, including Deutsche Bank, warning them against supporting the Maduro government.
"The national government, through the central bank, is going to try to swap gold held as reserves for dollars to stay in power unconstitutionally," said one letter sent Thursday to John Cryan, the
CEO of Deutsche Bank. "I have the obligation to warn you that by supporting such a gold swap you would be taking actions favoring a government that's been recognized as dictatorial by the international community."
General Motors closes plant
After 69 years in business in Venezuela, US car giant General Motors shut down its operations after authorities seized the plant and took its vehicles, the company announced last Thursday.
The factory was "unexpectedly taken," according to a statement from GM. The company "strongly rejects the arbitrary measures taken by the authorities and will vigorously take all legal actions, within and outside of Venezuela, to defend its rights," the Detroit-based automaker said in a statement.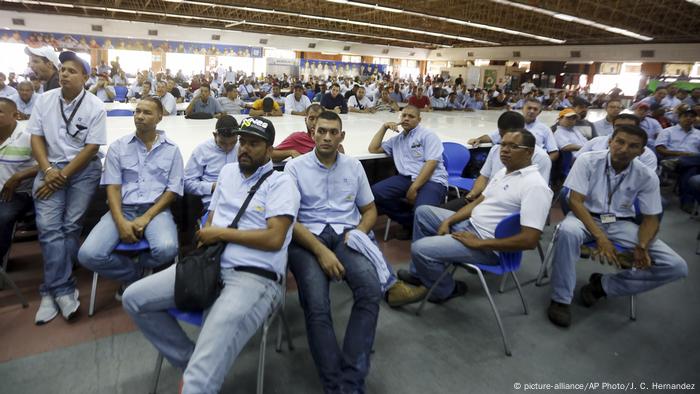 Workers at the GM plant in Valencia
The auto industry has followed the rest of the economy in its descent. In a nation of 30 million people, only 293 cars were sold in March, according to figures from Bloomberg. Ford still has a plant in Venezuela, although it is not operating. Toyota and Fiat Chrysler are still operating.
The GM takeover was the first nationalization of a major company's facilities in more than two years. In 2014, household goods company Clorox halted its operations because of inflation and government-mandated price freezes. The government took over and opened up the Clorox sites again.