The Qatari investment group Mayhoola for Investments S.P.C, backed by an unnamed investor, acquired full ownership of Valentino Fashion Group SpA from London-based private equity firm Permira and Italian textile manufacturers Marzotto. While Valentino did not disclose the name of the investor behind Mayhoola, British media had recently reported that Qatar's royal family was previously in advanced talks to buy the fashion label for about 700-755 million euros ($850-930 million).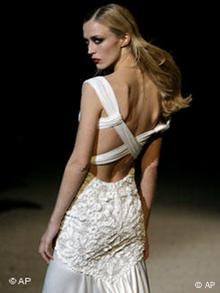 The high-end label had been in trouble for some time
'Delighted' by sale
Valentino chief executive Stefano Sassi told AFP he was "delighted" by the sale.
"During the past few years, despite swings in the luxury markets, the company has operated with great intensity and remained focused on maximizing the potential of the Valentino brand," he said. "This effort should drive a 60-percent increase in revenues from 2009 to 2012. Our new shareholder will help us to reach our full potential,"
Founded in 1960 by Paris-trained designer Valentino Garavani, the high-end fashion label won international fame early on when its namesake designed the wedding dress for Jacqueline Onassis, widow of assassinated US President John F. Kennedy, in 1968. The brand gained further fame for its trademark bright red haute couture and ready-to-wear chiffon dresses, loved by princesses and Hollywood stars alike. Recent fans have included actresses Jennifer Aniston, Keira Knightley and Cameron Diaz.
According to its website, Valentino has operations in more than 70 countries with 1,250 points of sale, and in 2011 had a turnover of 322.4 million euros.
Previous trouble
Valentino is the latest Italian luxury brand to be bought by a foreign investor, a sign of difficulties in the sector even as the country sinks further into a deep recession.
In Dec. 2010, high-end menswear retailer Trinity Ltd bought Italian menswear brand Cerruti for $70 million. In 2011, Dubai retailer Paris Group bought fashion house Gianfranco Ferre.
Valentino had faced financial difficulties for some time. London-based private equity firm Permira took control of Valentino Fashion Group, which at the time included Valentino and German menswear brand Hugo Boss, in 2007 for 5.3 billion euros in one of the largest deals in Europe that year. In December 2009, hit by the financial crisis, the brand had to restructure its debt and Permira, together with textile manufacturer Marzotto, placed Hugo Boss in a separate entity.
The Qataris, who also own London's iconic Harrods department store, have been one of the world's most active investors with assets ranging from stakes in sports car maker Porsche to shares of British bank Barclays.
Although the 80-year-old Valentino retired in Oct. 2008, he still makes frequent appearances on the global celebrity circuit. The fashion house's current creative directors are Maria Grazia Chiuri and Pierpaolo Piccioli.
bm/msh (AFP, Reuters)