"The numbers speak for themselves," said a spokesperson for Germany's Economics Ministry in Berlin in an interview with DW. The German private sector, statistics show, is losing faith in Uzbekistan.
Indeed figures indicate that trade between the two countries in 2011 was 30 percent lower than one year earlier, dropping from 759 million euros to 518 million euros. The ministry predicts a further decrease for 2012 of up to 20 percent.
The reason for the negative trend is the dire investment climate in the central Asian country. The story of German businessman (of Iranian descent) Abbas Ali Bakhshi is one example of just how difficult things have become.
Forged sales contracts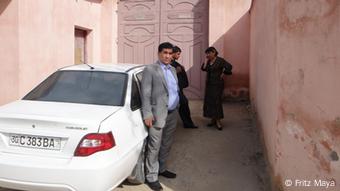 Ali Bakhshi, here at a Shirin Dunyo outlet, has been fighting for justice for two years
In 2008, Bakhshi acquired 25 percent of the Shirin Dunyo company, a manufacturer of sweets and candies based in the Uzbek capital of Tashkent. Two years later, one of the other four owners sold his holdings to the Gulyamovs, a notoriously influential Uzbek family. Allegedly, through forged sales contracts, the Gulyamovs forced international investors out of the company. Ali Bakhshi was one of them.
Foreign investors lodged complaints - first at local government offices, then with the government in Tashkent. Finally, Ali Bakhshi, both on his own behalf and on behalf of the German shareholders who were also ousted, went to the German embassy to ask for assistance.
Berlin intervened and as a result Uzbek authorities ordered that company shares be returned to their rightful, international owners - but that, it appears, never happened.
The factory, it seems, is now de facto in the hands of the Gulyamov family. "This topic was discussed with Uzbekistan in the fall of 2012 at the highest levels of government," the German Economics Ministry told DW. "The problem remains unresolved, though."
Not a one-off
Other German companies also have their own issues to deal with. The biggest case, thus far, has to do with the more than 20 German construction companies that were involved in building a convention center in Tashkent. To this day it appears that none of the companies has received any reasonable payment for work completed. More than 60 million euros are tied up in that dispute.
In total, experts estimate that up to 500 million euros are being withheld from German companies by Uzbek partners. However Martin Hoffman, who is on Germany's Committee on Eastern European Economic Relations, says the numbers should be treated with caution.
"It's very difficult to name an exact sum," he told DW. "So many of those payment requests are the source of legal disputes."
He did confirm, however, that "there are an extensive number of claims by German companies involved in different projects in Uzbekistan."

Exchange rates
Rich natural gas fields have lured international investors
Another problem for German companies in Uzbekistan, Hoffman says, is that any revenues in local currency cannot be converted directly into dollars or euros. Legally, a portion of those sums cannot be converted until a certain period of time has passed.
That period can range anywhere from three months to one year and is dependent on current Uzbek restrictions. At this time, funds are simply not available at all, whether in national currency or in foreign exchange, Hoffman said. Profits, therefore, run the risk of devaluation.
"Lately there have been promises from the Uzbek side that they would solve the conversion issues," Hoffman said. "That would be a big relief for companies in the Uzbek market." Difficulties in converting these funds into euros has led to an unexpected increase in the cost of German business operations there.
These difficulties are making it even more difficult for German companies to compete in an already crowded market. Asian, Russian and even European state-owned companies are all in competition for the same contracts in Uzbekistan.
As a result of direct bilateral political contact between Uzbekistan and those other governments, it is often easier for state-held companies to undercut private German competitors.