US Vice President Mike Pence on Monday again sought to reassure European Union officials unsettled by remarks made by US President Donald Trump that seemed to indicate antipathy towards the 28-nation bloc.
"Today it is my privilege on behalf of President Trump to express the strong commitment of the United States to continue cooperation and partnership with the European Union," Pence said in a statement read out after talks with European Council President Donald Tusk in Brussels.
"Whatever our differences, our two continents share the same heritage, the same values and above all the same purpose to promote peace and prosperity through freedom, democracy and the rule of law. And to those objectives we will remain committed," the statement added.
Damage limitation exercise
His comments come after Trump made remarks that appeared to suggest that he favored the breaking-up of the union, among other things praising Britain for its decision to leave the bloc as a "fantastic thing."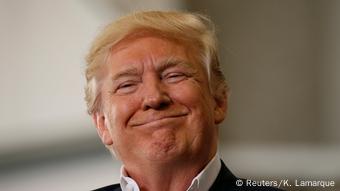 Trump seems to relish the idea of EU disintegration
He has also propagated a negative image of Europe by frequently referring to what he describes as a perilous security situation caused by immigration.
Trump has also created anxiety within the EU with his "America first" slogan, with EU financial affairs chief Pierre Moscovici predicting tough times ahead for Europe if the US president sticks to this principle, and calling for the continent to take action.
"That means that the international trading and security architecture to which we owe our unprecedented peace and prosperity is also threatened as never before," he said. "So let us mobilize."
Deep anxiety
Trump's remarks have caused EU officials to contemplate a possible future without the traditional unquestioned support of the US.
Two weeks ago, Tusk called the United States under Trump a "threat" to the EU, saying the new president was contributing to the "highly unpredictable" outlook for the bloc as it faces numerous challenges, both economic and those stemming from a rise of nationalist parties in several member states.
And EU Commission President Jean-Claude Juncker spoke of the US last week as "our American friends, if they should want to remain our friends."
Anti-Trump protest
Pence faced protests from anti-Trump demonstators in front of the US embassy in Brussels as he began talks with EU foreign policy chief Federica Mogherini, with participants condemning the Trump administration's attitude toward women, gays and climate change.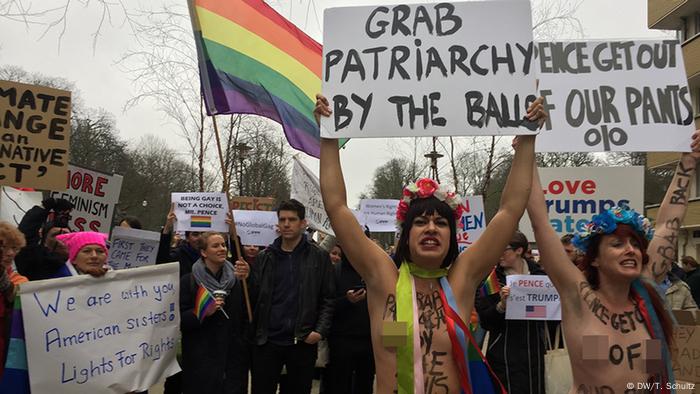 Anti-Trump protesters greeted Pence in Brussels
The US vice president also met with Juncker and was to hold talks later with NATO Secretary-General Jens Stoltenberg.
Pence on Saturday reassured US allies that Washington also remained committed to NATO, although he repeated warnings that members of the alliance should be ready to contribute more financially.
Trump had previously described the military alliance as "obsolete."
tj/rt (Reuters, AFP, dpa)