US Treasury Secretary Steven Mnuchin on Sunday said the US and China would not impose tariffs on each other's products, effectively suspending a looming trade war.
"We are putting the trade war on hold. Right now, we have agreed to put the tariffs on hold while we try to execute the framework," Mnuchin told Fox News. "We have made very meaningful progress and we agreed on a framework."
The announcement comes a day after Washington and Beijing announced that China would "significantly" increase purchases of US products as part of a deal aimed at reducing the trade deficit with China.
The deficit stands at roughly $375 billion (€318 billion), but Washington is hoping to reduce it by $200 billion by 2020. Earlier this year, US President Donald Trump sparked concerns of a trade war when he threatened to impose $150 billion worth of tariffs on Chinese products, with Beijing responding with its own tariffs on American products.
Mnuchin said the White House is expecting to see a major increase in agricultural exports, amounting to between 35 and 40 percent. "We have specific targets. I am not going to publicly disclose what they are," he said. "They go industry by industry."
Positive reactions
Chinese state media have hailed the developments, with the official China Daily saying the two sides had "successfully averted the head-on confrontation that at one point seemed inevitable."
But it and the ruling Communist Party's People's Daily both emphasized that China had not been forced to increase imports and that the agreements were struck in the spirit of a "win-win cooperation."
Asian stock markets were also up on Monday, as investors welcomed the gain in certainty provided by the outcome of the negotiations.
The CSI300 index rose 0.7 percent to 3,930.86 points at the end of the morning session, while the Shanghai Composite Index gained 0.8 percent to 3,217.93 points. In Hong Kong, the benchmark Hang Seng index added 1.3 percent to 31,439.88 points, while the Hong Kong China Enterprises Index gained 0.9 percent, to 12,470.29.
'At the expense of Europe'
But French Economy Minister Bruno Le Maire on Sunday warned that Europe could be hurt if the US and China adopt a new trade deal.
"The United States and China risk entering an agreement at the expense of Europe if Europe is not capable of showing a firm hand," Le Maire told French TV station CNEWS.
"The United States wants to make Europe and European countries pay for China's bad behavior. All of that is totally absurd and incomprehensible."
Over the past decade, China has been a major source of foreign direct investment in Europe, with Germany the largest recipient on the continent. Germany is also China's largest trading partner in Europe.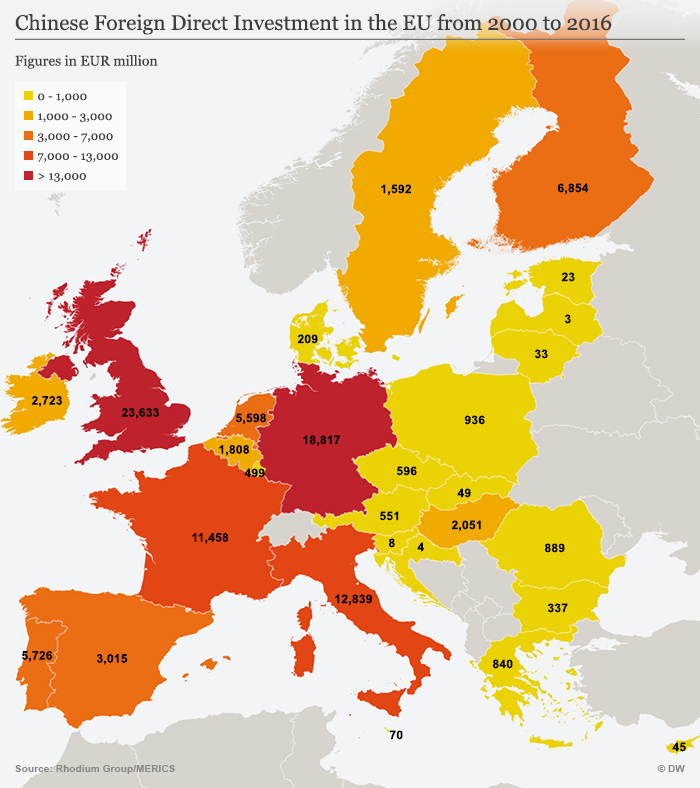 ls/jm (AFP, Reuters)
Each evening at 1830 UTC, DW's editors send out a selection of the day's hard news and quality feature journalism. You can sign up to receive it directly here.