The Senate Appropriations Committee voted unanimously to cut aid to Pakistan by a symbolic $33 million (26 million euros) on Thursday, equating to $1 million for each year of the prison sentence given to Shakil Afridi.
"It's arbitrary, but the hope is that Pakistan will realize we are serious," said Senator Richard Durbin after the action was sanctioned by all 30 members of the committee.
"It's outrageous that they would say a man who helped us find Osama bin Laden is a traitor," said Durbin, the number two Democrat in the Senate.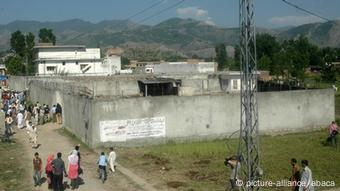 Afridi led a program set up to gather DNA from the compund where bin Laden was staying
Afridi had been in charge of a fake vaccination program for the CIA, established to collect DNA from the compound where Bin Laden himself was staying in the city of Abbottabad. The al Qaeda leader was shot dead in a raid by US Navy Seals in May last year.
'Need for mutual respect'
Earlier, a Pakistani government spokesman said that the US should respect the court's decision as an internal matter. Afridi was found guilty of treason and sentenced by a tribal court on Wednesday to 33 years in jail along with a fine of 320,000 rupees ($3,500).
"I think as far as the case of Mr Afridi is concerned, it was in accordance with Pakistani laws and by the Pakistani courts, and we need to respect each other's legal processes," a Pakistani Foreign Ministry spokesman told a weekly press briefing.
US Secretary of State Hillary Clinton denounced the sentence as "unjust and unwarranted."
Afridi's actions "to help bring about the end of the reign of terror designed and executed by bin Laden was not in any way a betrayal of Pakistan," Clinton said.
The committee's decision comes in spite of efforts to repair US-Pakistani relations, which have been strained to the breaking point by the raid that killed bin Laden and air strikes that killed 24 Pakistani troops.
After the air attack, Pakistan shut its Afghan border to NATO supplies and told US staff to leave an air base that was reported to be a center for drone attacks.
rc/mr (AFP, AP, dpa, Reuters)