Republican Ted Cruz won the Wisconsin presidential primary, dealing a blow to front-runner Donald Trump's hopes of amassing the number of delegates needed to clinch the party's nomination ahead of the July party convention. Trump was exactly 500 delegates short of the 1,237 needed to win the nomination. He had 737 convention delegates compared to Cruz's 481 heading into the vote but has been on a losing streak of late.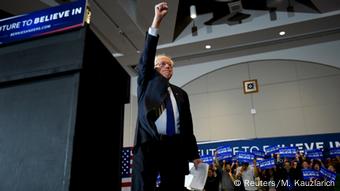 Sanders still has an uphill delegate climb if he hopes of catching Hillary Clinton.
Cruz's win was a breakthrough for Republican Party forces battling to block the controversial New York billionaire. Republican Party establishment figures are worried that Trump will lead Republicans to a broad defeat in November.
"Tonight is a turning point. It is a rallying cry," Cruz told supporters in Milwaukee. "It is a call from the hardworking men and women of Wisconsin to the people of America. We have a choice. A real choice."
Cruz's chief spokesman later said that Ohio Governor John Kasich, the third Republican candidate in the race, was only staying in the run to make a play to be the vice presidential pick - presumably as part of a ticket with Donald Trump.
GOP front-runner Donald Trump's campaign meanwhile lashed out at Cruz :
"Ted Cruz is worse than a puppet - he is a Trojan horse, being used by the party bosses attempting to steal the nomination from Mr Trump."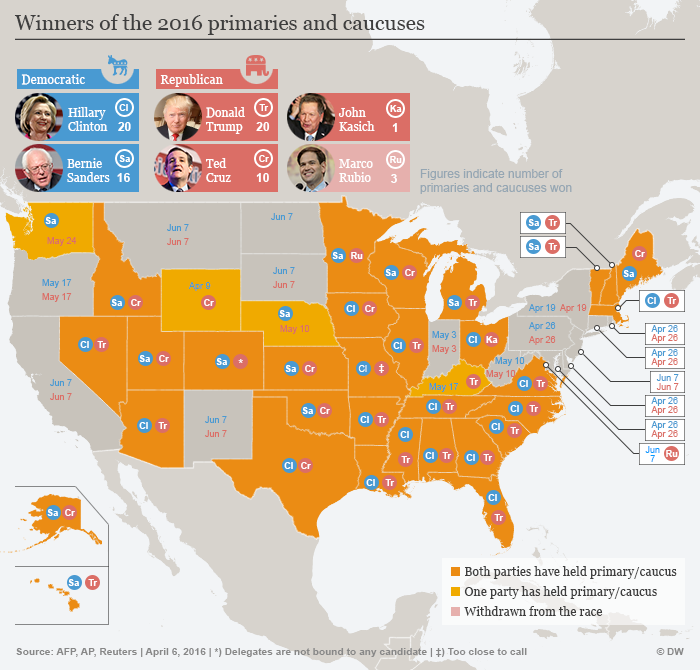 A tight race for both parties
Meanwhile, Democratic presidential contender Bernie Sanders won in the Democrats' race in Wisconsin, gaining momentum in his fight against front-runner Hillary Clinton.
In the Democratic race, the win for the US senator from Vermont marked his sixth victory in the last seven presidential nominating contests. However, Sanders still faces the difficult task of overtaking Clinton, as the presidential nominating race moves to New York on April 19 and then to five other Eastern states on April 26. Sanders is currently campaigning in Wyoming, where he's favored to win upcoming caucuses.
The senator from Vermont told reporters: "Do not tell Secretary Clinton, she's getting a little nervous. But I believe we have an excellent chance to win New York and a lot of delegates in that state."
Sanders is also expected to soon turn his attention to races in Oregon and California, where his campaign believes he can capture big victories.
ss/bw (Reuters, AFP, AP, dpa)