Speaking at the Pentagon on Friday, the defense secretary confirmed the death of Abdul al-Rahman Mustafa al-Qaduli, also known as Haji Imam and Abu Alaa al-Afari.
Carter did not provide details of the operation in which al-Qaduli was killed, but said his death was part of the US' efforts to "systematically eliminate" the unofficial cabinet of the terror group calling itself the "Islamic State" (IS).
"The removal of this ISIL leader will hamper the ability for them to conduct operations inside and outside of Iraq and Syria," Carter told reporters, referring to the IS by another acronym.
Al-Qaduli was the terror outfit's principal financier, part of the group's upper echelons below Abu Bakr al-Baghdadi. Defense Secretary Ashton Carter described him as a "well-known terrorist" who was involved in terror plots outside Iraq and Syria.
The US had placed a reward of $7 million (6.25 million euros) on al-Qaduli, who had returned to IS after being released from prison in 2012. He had also been a member of al Qaeda in Iraq.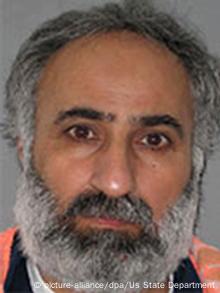 Haji Imam or Abdul al-Rahman al-Qaduli died in an airstrike in Iraq earlier this month
IS' 'minister of war' also believed dead
Carter also confirmed the death of another top IS commander, Abu Nabil, in Libya in November last year.
The US defense secretary also said that Omar al-Shishani, IS' chief military strategist, was likely killed in US strikes. Reports of Omar al-Shishani's death have made the rounds several times in the media. Earlier this month, the Pentagon said al-Shishani, also known as "Omar the Chechen," was killed in a coalition attack. The "Islamic State" however denied any such reports, with a pro-IS news agency denying the terrorist's death.
Al-Shishani, in his 30s, was one of the IS' most prominent leaders and originally from Chechnya, where he is believed to have fought Russian forces. Around 1,500 Chechens are believed to have joined the IS because of al-Shishani. Washington had placed a bounty of $5 million on his head.
mg/msh (Reuters, dpa, AP)