One of the most iconic guns of the American Wild West will go up for auction next month with the sale of the weapon that killed 19th century outlaw Billy the Kid, Bonhams auction house said on Wednesday.
According to Bonhams, Sheriff Pat Garrett's Colt single action revolver is expected to fetch somewhere between $2 million and $3 million (€1.7 million and €2.5 million).
Garrett used the firearm to gun down Billy the Kid in 1881.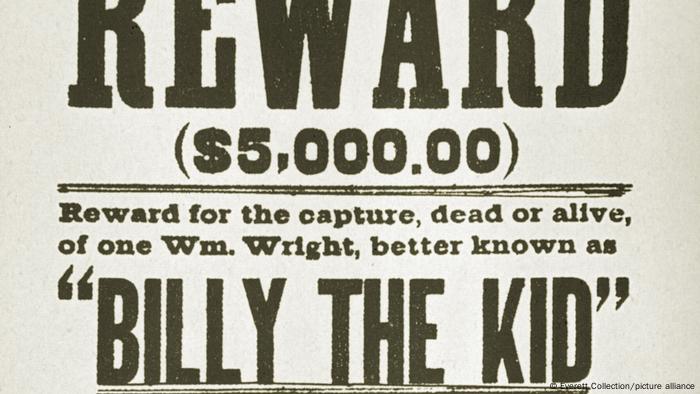 Billy the Kid became a notorious criminal, and rewards for his capture "dead or alive" were issued
Stuff of legend
Bonhams described the gun as "the most iconic treasure of early Western history" in the United States and said the revolver's current condition was "very good with traces of blue on barrel and cylinder flutes and other protected areas. Well worn grips."
"Now part of the American mythology, Garrett's friendship with the Kid, their mutual respect, and his subsequent hunt, capture, escape and death have become the stuff of legend," Bonhams' website says.
Billy the Kid remains one of the most notorious figures from the era, whose life and likeness have been frequently dramatized in American popular culture. His life story inspired songs, films and books, casting him as both villainous outlaw and unsung hero fighting for justice. In the 140 years since the outlaw's death, his fate has woven its way into the American imagination.
An orphan who went from petty crime to murders
Orphaned at the age of 15, Billy the Kid was first arrested for stealing food. He was detained once more for robbing a Chinese laundry but escaped shortly afterwards.
Born Henry McCarty, the Kid became a wanted man after murdering a blacksmith during an altercation in August 1877.
His notoriety soon grew, with media across the United States carrying stories of his crimes, before his capture by Sheriff Pat Garrett in December 1880.
In April 1881, the Kid was tried for and convicted for murdering Lincoln County Sheriff William J. Brady, but escaped jail, killing two deputies in the process.
After more than two months on the run, Billy the Kid was eventually shot and killed by Garrett. The outlaw was 21 years old.
The gun that took him down lies in the hands of Texas couple Jim and Theresa Earle, whose collection includes a number of Western firearms and other artifacts. Jim Earle passed away in 2019, and his family is now selling the cache.
Reuters contributed to this article.