Citing a "specific threat against US personnel" at Mogadishu International Airport, the US Mission to Somalia on Saturday urged its non-essential staff to leave the Somali capital.
The mission said the threat level against US citizens remained "critical" and that the situation in Somalia was "extremely unstable." The directive did not elaborate on the nature of the threat.
Drone strikes against IS
The order came a day after the US military carried out its first drone strikes against "Islamic State" (IS) group-allied fighters in northeastern Somalia, saying "several terrorists" had been killed in the Puntland region.
The US Africa command said the strikes were carried out in coordination with Somalia's government.
The US closed its embassy in Somalia in 1991 for security reasons and maintains a mission in neighboring Kenya. But several US diplomatic employees are believed to travel between the two countries.
Mogadishu was rocked last month by the country's worst attack, which killed more than 350 people The atrocity has been blamed on the al-Shabab extremist group, which wants to topple the Western-backed government and impose its strict version of Islam on the Horn of Africa state.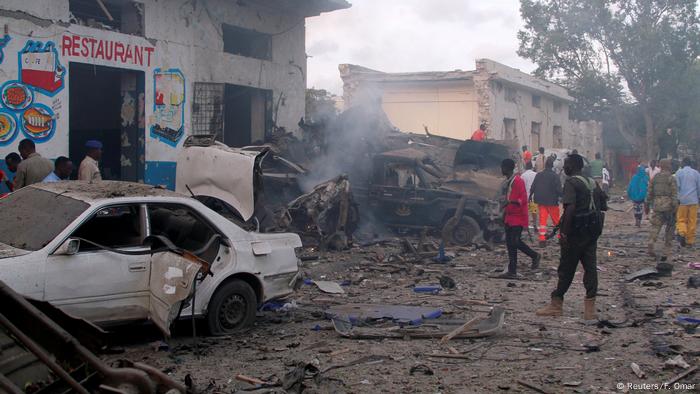 Last weekend, dozens of people were killed in coordinated bomb attacks on a popular hotel
Airport vulnerable
Somali intelligence officials have said the massive truck bomb was meant to target the airport, where several countries have embassies. But instead it was detonated in a crowded street after soldiers opened fire and flattened one of the truck's tires.
Just last week, at least 23 people were killed and dozens more injured in coordinated bomb attacks at a hotel in the capital. Following the blasts, five gunmen stormed the building, leading to a 10-hour siege that left several militants dead,
Al-Shabab militants have been the target of over a dozen US drone strikes after the Trump administration approved expanded efforts against the group. But last week's strikes were the first target IS, a small player compared to al-Shabab.
mm/bw (AFP, AP, Reuters)