During his trip to Afghanistan on Tuesday, US Defense Secretary Ash Carter was due to meet with senior US military commanders and Afghan leaders including President Ashraf Ghani and Chief Executive Abdullah Abdullah.
Carter's visit came just days after US President Barack Obama shelved plans to cut the US force in Afghanistan 5,000 by the end of 2016, opting instead to keep 8,400 troops there through the close of his presidency in January next year.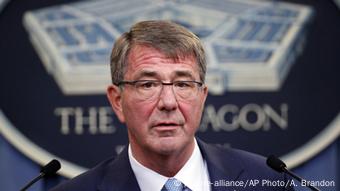 US Defense Secretary Ash Carter
NATO cooperation
The unexpected visit was Carter's second stop in a war zone in as many days. As well as participating in the NATO advisory-and-assist mission, the US has special operations forces in Afghanistan that conduct counterterrorism missions.
The planned force levels allow NATO allies to remain in regional hubs around Afghanistan, with Germany in the north, Italy in the west, Turkey in the capital of Kabul and the US in the east and south.
Obama went into the White House pledging to withdraw the US from Afghanistan's nearly 15-year conflict.
However, in light of the Taliban's territorial gains, the US president urged his fellow NATO leaders in Warsaw last week to expand their support for the war against the Islamic movement.
Funding to maintain Afghan troops
Washington has also pledged to provide $3.5 billion (3.2 billion euros) annually to fund Afghan forces which are still in need of US and coalition support. The Afghan government in Kabul is expected to contribute as much as $500 million while NATO allies provide the remaining $1 billion.
Just a day after Carter left Iraq, the capital Baghdad was rocked by yet another suicide bomb in the Shiite district on Tuesday morning, killing at least 11 people.
It was not immediately clear who was responsible for the attack. The "Islamic State" (IS) militant group last week launched two attacks on the Iraqi capital, killing more than 300 people.
During his visit to Iraq on Monday, Carter announced that an additional 560 troops would be sent to Iraq in the coming days and weeks to help prepare for an Iraqi-led recapture of Mosul.
ksb/rc (Reuters, AP)