An anonymous source close to the Confederation of North and Central America and Caribbean Association Football (CONCACAF), the soccer governing body of North America and Central America, told the Associated Press that the US, Mexico and Canada were preparing a joint bid to host the 2026 FIFA World Cup.
While not confirming the speculation about the joint bid, the US, Mexico and Canada soccer federations said they will make a "historic announcement" on Monday, according to a tweet by CONCACAF. The announcement is to be made by CONCACAF and Canadian Soccer Association president Victor Montagliani, United States Soccer Federation president Sunil Gulati and Mexican Football Federation president and CONCACAF vice president Decio de Maria.
CONCACAF made its decision to go through with the bid Saturday at its meeting in Aruba, according to the anonymous source. The US was the last CONCACAF nation to host the World Cup in 1994. The 1994 tournament set the average match attendance and total attendance records that still stand, even though the tournament has since included more countries and featured more matches. Mexico hosted the 1970 and 1986 World Cups. Canada has never hosted the men's tournament. The 2026 World Cup host will be determined in May 2020.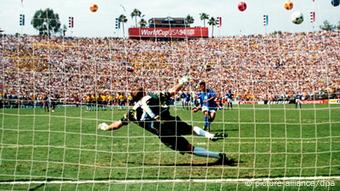 The US was the last North American nation to host the World Cup. Brazil won the 1994 tournament in penalty kicks.
Possible redemption
The US made a bid for the 2022 World Cup, but controversially lost the right to host to Qatar. Qatar has been accused of bribing the international soccer governing body FIFA for the right to host the 2022 edition of the world's largest soccer tournament.
The 2026 World Cup will be the first edition to feature 48 nations, a dramatic increase from the 32-nation format that has been in place since the 1998 edition. Former US striker and current ESPN analyst Taylor Twellman says the CONCACAF bid has a decent chance of being successful due to the tournament's expansion.
"I think now that there is a potential of 48 teams than a three-nation tournament can happen," Twellman told the Associated Press. "Does the US need the other two? No, they don't but it does make for a unique opportunity for North America to host the tournament."
Nations in the European (UEFA) and Asian (AFC) soccer confederations will not be allowed to bid for the 2026 World Cup as they will have hosted the tournament prior to the 2026 edition. This leaves just the South American soccer confederation (CONMEBOL) and Oceanic soccer confederation (OFC) to compete with CONCACAF for the 2026 World Cup bid. The only World Cup to be co-hosted was the 2002 World Cup in South Korea and Japan, in which Germany lost to Brazil in the final.
kbd/kl (AFP, AP)