According to a statement on the US Navy website, Carrier Strike Group (CSG) 1, includes the Nimitz-class aircraft carrier USS Carl Vinson (photo). The group, which includes a guided-missile destroyer and aircraft, began "routine operations in the South China Sea" on Saturday.
"The training completed over the past few weeks has really brought the team together and improved our effectiveness and readiness as a strike group," said Rear Adm. James Kilby, commander, CSG 1. "We are looking forward to demonstrating those capabilities while building upon existing strong relationships with our allies, partners and friends in the Indo-Asia-Pacific region."
Last week, China's foreign ministry had warned the US against challenging its sovereignty. "We urge the US not to take any actions that challenge China's sovereignty and security," a spokesman said.
The ministry was responding to reports that the US was planning naval patrols in the South China Sea. China concluded its own naval exercises in the South China Sea on Friday.
Earlier this month, a Chinese early warning aircraft and a US Navy patrol plane experienced an "unsafe" encounter over the South China Sea.
Vinson first went to the South China Sea in 1983 and in total, has operated there during 16 previous deployments over its 35 year history, the Navy said.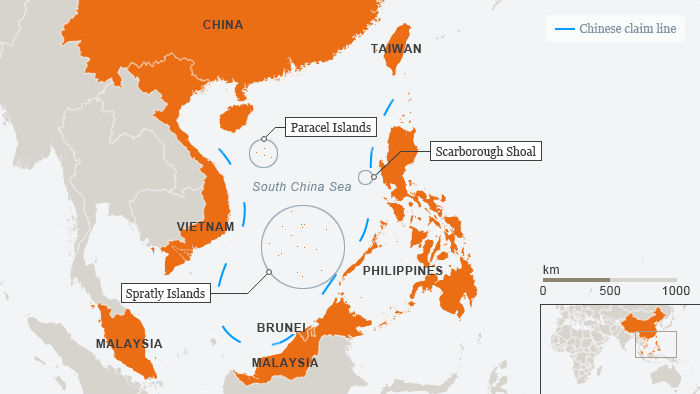 The South China Sea with countries shown claiming contested areas
China claims almost all of the South China Sea which is rich in natural and mineral reserves. It is a major trade route with $5 trillion (4.7 trillion euro) worth of goods passing through it each year.
The US has criticized the building of man-made islands and military facilities by China in the sea.
US Navy personnel built a bridge with South Korean marines, according to a tweet on Saturday:
jm/bw (Reuters)