Ten people were killed in a mass shooting at a supermarket in Buffalo, the second-largest city in the state of New York, police said on Saturday.
Another three were injured in the attack at the Tops Friendly Market, Buffalo Police Commissioner Joseph Gramaglia said.
The FBI said they were investigating a "hate crime" and " racially motivated extremism."
They were also looking into the authenticity of a 180-page manifesto that appeared to have been left online by the suspect.
What we know about the shooting
A heavily armed 18-year-old white man, Payton G.*, entered the supermarket and opened fire, authorities said.
Investigators believe the man may have been live-streaming the shooting. Witnesses reported he was wearing military-style clothing and body armor and carrying a rifle.
G.'s attack draws similarities to the one carried about by the far-right gunman who killed dozens of Muslims in Christchurch in 2019. A preliminary investigation showed that the suspect had spent time researching that attack, as well as visiting sites espousing white supremacist ideology and race-based conspiracy theories.
A security guard fired at the attacker, but the bullet hit his body armor and had no effect. The attacker then killed the guard.
The supermarket is in a predominately Black neighborhood, and the surrounding area is primarily residential.
Gramaglia told ABC that G. had been in the vicinity of the shooting "at least the day before."
"It seems that he had come here to scope out the area, to do a little reconnaissance work on the area before he carried out his just evil, sickening act," Gramaglia said.
The suspect is in police custody and being questioned by the FBI. His parents are also cooperating with investigators, police officials said.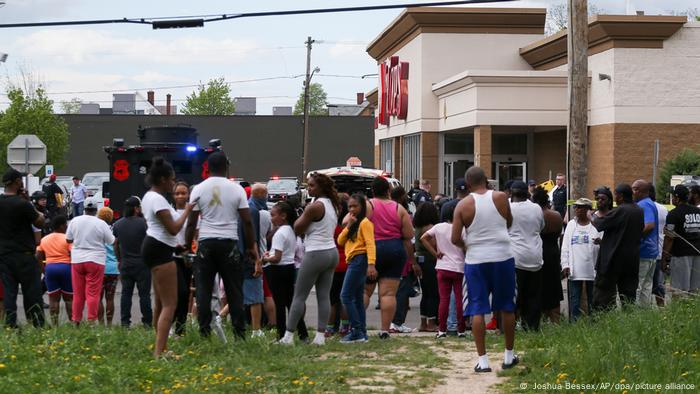 A crowd gathered as police investigated after shots were fired at a Tops Friendly Markets shop
Biden decries 'act of domestic terrorism'
White House Press Secretary Karine Jean-Pierre said President Joe Biden had been briefed on the "horrific shooting" and its aftermath.
In a statement, Biden said investigators were still looking into the motivation for the shooting, but "we don't need anything else to state a clear moral truth: A racially motivated hate crime is abhorrent to the very fabric of this nation."
"Any act of domestic terrorism, including an act perpetrated in the name of a repugnant white nationalist ideology, is antithetical to everything we stand for in America," he said.
New York Governor Kathy Hochul said on Twitter that she will "ensure law enforcement has what they need to prosecute the shooter to the fullest extent."
Buffalo Mayor Bryon Brown appealed for unity on what he called a "day of great pain for our community."
"Many of us have been in and out of this supermarket many times," he said in a statement to the media. "We cannot let this hateful person divide our community or our country."
Saturday's shooting came after recent racially motivated mass killings in the US.
Several initiatives to stem gun violence have failed to pass in Congress despite recurring mass-casualty shootings across the country.
In 2020, the US recorded 19,350 firearm homicides, up nearly 35% compared to 2019, according to the Centers for Disease Control and Prevention (CDC).
*Editor's note: DW follows the German press code, which stresses the importance of protecting the privacy of suspected criminals or victims and urges us to refrain from revealing full names in such cases.
ab, fb, lo/sri (AP, Reuters)