The Syrian armed opposition in the rebel-held eastern part of Aleppo has agreed in writing to a plan to allow aid to be delivered and medical evacuations to be carried out, according to a senior United Nations humanitarian official.
Jan Egeland said support for the plan had also been voiced by the Russian government, which is flying airstrikes in Aleppo to support Syrian government forces trying to wrest back parts of the city held by insurgents opposed to President Bashar al-Assad.
He said, however, that the UN was still waiting on the Syrian government to give its go-ahead.
'Big, dangerous and complex'
Egeland said that aid convoys were standing ready in western Aleppo and Turkey to bring supplies to civilians in the eastern zone who have been cut off from food and medical supplies for months. He said the convoys needed 72 hours' notice to launch what he called a "big, complex and dangerous" aid operation.
The alternative, said Egeland, could have dire consequences.
"In many ways, Plan B is that people starve," he said. "That cannot be allowed to happen."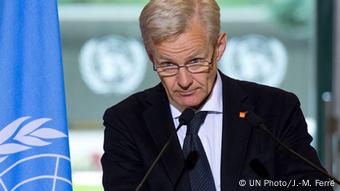 Egeland: "Plan B is that people starve"
'Barely survivable'
The Syrian government has recently stepped up its bombardment of eastern Aleppo, with every hospital in the area being put out of service in the attacks by Sunday, according to the World Health Organization.
The area has been under siege by pro-government forces since July, and civilians there are reportedly running out of all basic supplies, including food, water and medicine.
On Monday, the UN's chief humanitarian official, Stephen O'Brien, said conditions had gone "from terrible to terrifying and now barely survivable."
According to the Britain-based Syrian Observatory for Human Rights, at least 140 civilians, including 18 children, have died since the Syrian government resumed airstrikes and ground attacks some 10 days ago.
Some 275,000 people are thought to be trapped in east Aleppo, which has been held by rebels for the past four years.
tj/kl (Reuters, AP)