US President Barack Obama and Secretary of State John Kerry will both give speeches on Wednesday about the restoration of diplomatic ties between the United States and Cuba, anonymous US officials said.
"We will formally announce [on Wednesday] that the United States and Cuba have reached an agreement to re-establish formal diplomatic relations and open embassies in each other's capitals," a senior US official told news agencies.
The formal announcement brings to fruition a plan to normalize relations that started six months ago when the two presidents simultaneously announced their intentions to re-establish ties; the two leaders also met at an April summit in Panama and in May the US removed Cuba from a list of state sponsors of terrorism.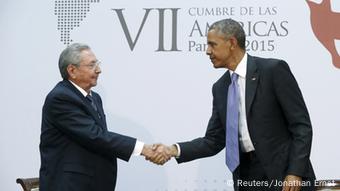 A handshake between Castro and Obama was lauded as a historic breakthrough in April
From interest sections to embassies
The agreement will allow both countries to upgrade their "interests sections" in Havana and Washington that are officially under the protection of Switzerland into embassies with ambassadors to be appointed later. The US State Department must give Congress a 15-day notice before opening an embassy.
Diplomatic ties between the two countries were severed in 1961; the Cuban missile crisis in 1962 was among the most heated disputes of the Cold War, putting the United States and the Soviet Union at the brink of a nuclear war.
Serious disagreements still exist between the two countries, including talks on human rights issues, calls for compensation for confiscated American property in Havana and damages from the US trade embargo, which still remains in place and can only be lifted by Congress.
While a majority of Americans are in favor of restoring ties, opinion on normalizing relations is divided among politicians in the United States. US Congresswoman Ileana Ros-Lehtinen of Florida said in a statement that opening a US embassy in Cuba "will do nothing to help the Cuban people."
Congressman Sam Farr of California, however, supported the call to re-open the embassies.
New Gitmo envoy
In a separate announcement on Tuesday, Kerry appointed Lee Wolosky as the new special envoy to lead the Obama administration's efforts to close the US military prison at Guantanamo Bay.
Wolosky served as the White House's director of transnational threats under presidents Bill Clinton and George W. Bush.
"Lee will lead our ongoing diplomatic engagement to make possible the closure of the Guantanamo detention facility in a timely manner, consistent with American interests and the security of our people," Kerry said in a statement.
sms/jr (AP, AFP, Reuters, dpa)