The UN children's agency UNICEF said on Saturday that armed men went from house to house in the Wau Shilluk area of South Sudan and abducted boys over the age of 12.
According to UNICEF, at least 89 boys had been taken during the raids near the city of Malakal, the capital of Upper Nile State. The agency warned that the total number of youngsters seized could be much higher.
The abductions were carried out while the boys were doing their exams.
Malakal had been at the center of intense fighting between rebel forces and government troops. Both sides have accused the other of violating multiple peace agreements.
South Sudan's conflict erupted in December 2013 when clashes broke out between forces loyal to President Salva Kiir and former Vice President Riek Machar.
UNICEF said thousands of children were used as soldiers by armed forces and rebel groups across South Sudan last year. It broke the news of the latest kidnappings via Twitter:
UNICEF's South Sudan representative Jonathan Veitch said, "The recruitment and use of children by armed forces destroys families and communities. Children are exposed to incomprehensible levels of violence, they lose their families and their chance to go to school."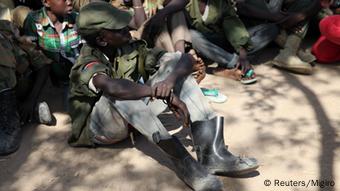 Rebel child soldiers in Jonglei State, South Sudan
The UN children's agency also said that the recruitment and use of children in armed forces and groups is a "grave violation of international law."
It is unclear which armed group carried out the latest child abductions.