A record number of 348,000 people attempted perilous sea crossings in 2014, the UN's refugee agency UNHCR said Wednesday. Nearly 4,300 migrants have died on the seas this year, the UN reported.
The majority of the migrants travelled to Europe, with more than 207,000 fleeing across the Mediterranean since the start of January. This is about three times the previous high of about 70,000 people attempting this journey during the Libyan civil war in 2011.
The UN called on governments to tackle the reasons why people are fleeing rather than simply closing their borders or implementing other policies designed to deter migrants.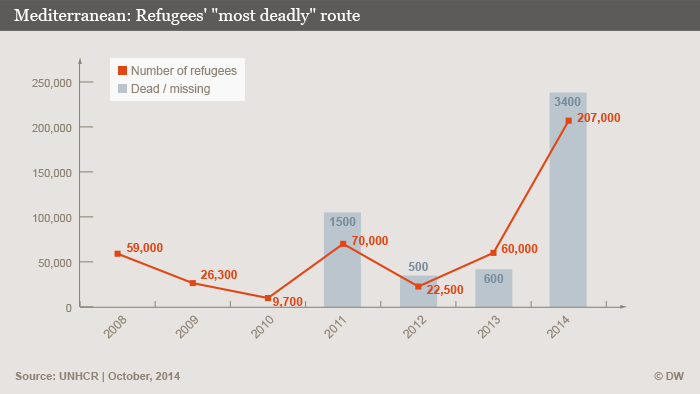 "This is a mistake, and precisely the wrong reaction for an era in which record numbers of people are fleeing wars," the UN High Commissioner for Refugees, Antonio Guterres, said in a statement.
"Security and immigration management are concerns for any country, but policies must be designed in a way that human lives do not end up becoming collateral damage," he added.
Conflicts in Iraq, Syria, Libya and Ukraine have contributed to the increase in the number of people attempting boat journeys to escape.
For many of the migrants, Italy is the first port of call. The country has rescued more than 150,000 people from rickety boats already this year.
However, Italy recently announced that it is ending its sea rescue operation, Mare Nostrum, to make way for a smaller scheme run by the European Union.
The UNHCR currently hosting a two day debate in Geneva on the issue of boat migrants, attended by government officials, aid workers, coastguards, lawyers and other experts.
lvw/rc (AFP, Reuters, dpa)