"As long as the World Food Program has not yet finalized its plans, I don't think there's something imminent," UN Special Envoy to Syria Staffan de Mistura said on Thursday of the potential for aid drops.
The UN estimates that 592,000 people live under siege in Syria, most of them surrounded by government forces, with another 4 million in hard-to-reach areas.
The International Syria Support Group (ISSG), which includes the United States and Russia, said in May that if humanitarian aid was denied to besieged areas, the UN's World Food Program (WFP) would be called on to carry out air drops starting June 1.
This appears to have changed, however.
"You need the consent of government," UN Deputy Syria Envoy Ramzy Ezzeldin Ramzy said at a press conference in Geneva on Thursday, adding he was not aware of any such permission from the Russian-backed regime of President Bashar al-Assad in Damascus.
Ramzy said the rebels and government would have to comply to ensure staff safety during what he called a "complex venture," involving helicopters, which could be exposed to attacks.
Humanitarian access has been a sticking point in UN-backed peace talks aimed at ending the five-year war.
Deadline for aid access delayed
The UN said in May that if it did not see an improvement in access for aid to besieged areas of Syria by June 1 it would task the UN food agency to carry out air drops. Air drops are considered a last resort as it could take six weeks of air drops to deliver the same amount of aid to an area as a single overland convoy.
Some aid, however, has reached those in need on Wednesday, with deliveries reaching two towns besieged by government forces where civilians are facing food shortages.
A local truce allowed a convoy to enter the town of Daraya near Damascus for the first time since late 2012, while another entered the nearby town of Moadamiyeh for the first time since this March.
The Syrian opposition said only medical supplies had been in the Daraya delivery, while UK-based charity Save the Children said it was "shocking and completely unacceptable" that no food had been brought to those in need.
About 8,000 people live in Daraya, which was one of the first towns to engage in anti-government demonstrations in 2012 and also to be placed under a strict regime siege the same year.
Calls for UN emergency meeting
Britain has called for an emergency UN Security Council meeting Friday to discuss humanitarian access and to press ahead with air drops. "It's too little, too late," said Matthew Rycroft, the British ambassador to the UN, referring to Wednesday's deliveries.
French Ambassador Francois Delattre, meanwhile, blamed the Syrian regime for blocking access to towns and villages under siege.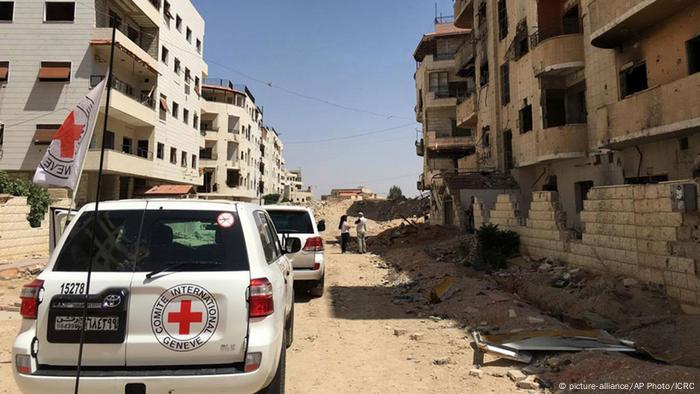 An image released by the International Committee for the Red Cross shows the first humanitarian aid convoy in Daraya, Syria on Wednesday, June 1, 2016.
Russia said on Wednesday that the local truce in Daraya would be observed until 00:01 a.m. on Friday (2101 GMT Thursday) to allow aid deliveries, but UN Ambassador Vitaly Churkin later suggested that plans to air drop humanitarian relief could be put on hold.
"I think we need to continue to pursue with land deliveries," Churkin said.
The border from Iraq to the Kurdish areas of Syria has been closed recently, adding to pressure on the local population, while Turkey has also shut its border.
Fighting rages on
Meanwhile, violence in the war-torn country continued on Thursday. A suicide bomb attack killed at least one person and wounded another three in the regime stronghold of Latakia in northwestern Syria, state television said.
Official news agency SANA said a motorcycle bomb was behind the attack in the coastal city.
Last month bombings claimed by the Islamic State group in the nearby seaside cities of Jableh and Tartus killed at least 170 people.
In northern Syria, a US-backed Kurdish-Arab alliance advanced toward the town of Manbij held by the "Islamic State" (IS) jihadi group on Thursday. In Syria's second city of Aleppo, at least five people were killed on Thursday in regime rocket fire on a rebel-held district, the civil defense said.
At least 280,000 people have been killed and millions displaced from their homes since the war started with the brutal repression of anti-regime protests in 2011.
jbh/sms (AFP, dpa, Reuters)