The United Nations announced that UN Secretary-General Antonio Guterres will travel to Colombia this weekend to meet with Colombian President Juan Manuel Santos, as well as leaders from the Revolutionary Armed Forces (FARC) and the Catholic church. They are scheduled to discuss the current state of peace efforts in the Latin American country as well as Colombia's efforts to reintegrate FARC rebels into society.
Read more: Colombia: ELN rebels begin historic truce with Santos government
Peace talks broken off after attacks
Peace talks taking place taking place between the Colombian government and the last remaining armed rebel group in the country, the National Liberation Army (ELN) in Quito, Ecuador, were broken off by Bogota Wednesday in response to ELN attacks as the existing ceasefire between the two parties, which went into effect on October 1, expired.
Last holdouts
Colombian authorities reported that the ELN had launched attacks at a naval guard post, injuring two people, and also separately attacked an oil pipeline. The ceasefire was the first ever entered into by the ELN since it was formed in 1964. The ELN also refused to participate in the historic peace agreement between Bogota and the much larger FARC rebel group in 2016.
Read more: In Colombia, peace remains elusive one year on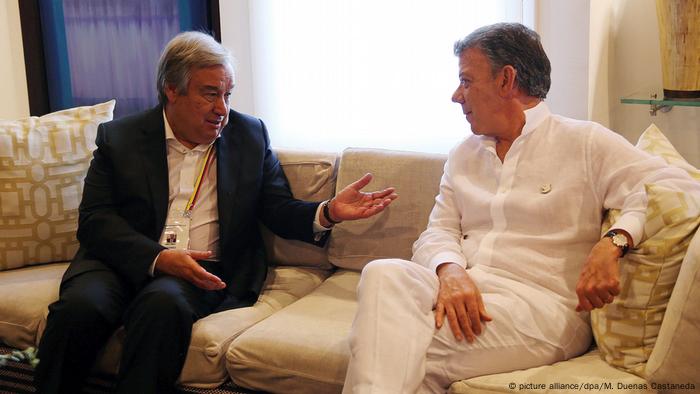 UN Secretary-General Antonio Guterres meeting with Colombian President Juan Manuel Santos at the Iberoamerican Summit in Cartegena, Colombia, in 2016, before he officially took up his post
'Not walking away from peace'
President Santos reacted angrily to the fact the ELN had launched the attacks despite the government's willingness to work toward peace, saying: "Inexplicably, ELN not only refused, but resumed its terrorist attacks … just on the day that a new round of negotiations was due to begin." Santos also ordered the army to, "act with decisiveness to respond to this aggression and to protect the life and honor of Colombians." Colombian Vice-President Oscar Naranjo Trujillo, speaking to the UN Security Council, promised: "The government is not walking away from peace."
Slowly reintegrating rebels
One major focus of Guterres' trip will be to address the lack of progress being made in reintegrating FARC rebels who agreed to put down their arms and reenter Colombian society. The secretary-general is scheduled to travel to Meta, in central Colombia, to visit a site set up to help FARC rebels reintegrate. To date, 11,362 fighters have signed up for a one-time reintegration allowance of $670 (€560).
Read more: One year after peace Colombia's indigenous peoples feel FARC power vacuum
Peace, but not everywhere
Last month Guterres told the Security Council that a "significant number [of FARC rebels] have joined illegal or dissident groups" as a consequence of their "growing frustration with the lack of opportunities." The peace agreement with FARC has calmed some parts of the country but not all. In others, criminal and paramilitary groups as well as ELN and FARC dissidents are fighting for control of the country's coca production. Coca is the plant from which cocaine is made.
js/rc (AP, dpa)