Bayern Munich boss Uli Hoeness admitted his own wrongdoing in January 2013 - by filing an amended tax return that showed he avoided paying taxes by means of a Swiss bank account. On Thursday, his trial came to an end. Hoeness turning himself in did not prevent him from receiving a prison sentence, the judge said, because not all information was put on the table from the beginning. In total, Hoeness evaded 28.4 million euros ($39 million) in taxes, according to the court.
The case had drawn so much attention because Hoeness played on the German national team and was president of Germany's most successful soccer club - making him one of the most powerful sports figures in the country. The 61-year-old has had an impact on German soccer like hardly anyone else. He turned Bayern into a world-famous and very rich club - achievements he has called his life's work. And the club is now in a better position than ever. The team wins match after match, and Bayern's financial profits to the tune of 430 million euros put other German clubs to shame.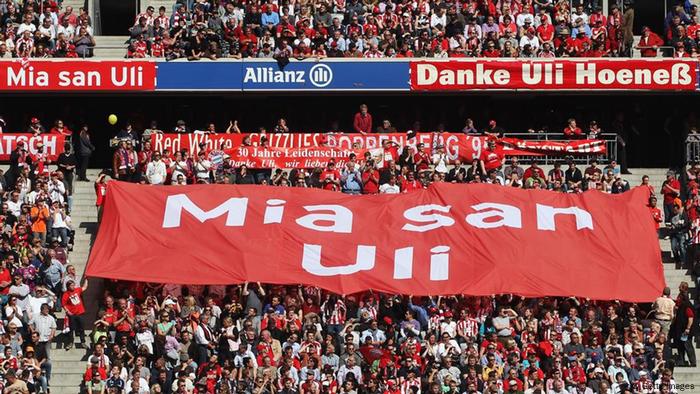 Uli Hoeness is used to enjoying much public support
Good deeds
Hoeness also has a reputation for straightforwardness and charitable acts. He has personally donated millions to social causes, while encouraging others to do the same. The long-celebrated manager even helped other football teams who were in financial trouble by setting up friendlies with Bayern.
Players in need of support also turned to Hoeness. Among them were Gerd Müller, who struggled with alcoholism, and Sebastian Deisler, who suffered from depression.
"Hoeness was a role model for many and an interesting interlocutor," said Dagmar Freitag, chairwoman of the sport committee of Germany's lower house of parliament, the Bundestag. Politicians were eager to be seen with him, and he was also glad to be seen in public with them, she told DW.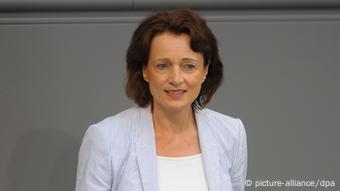 Freitag insists that tax fraud is a serious crime, requiring proper punishment
A deep fall
The club president and former Bundesliga player has won much recognition for his work. Aside from sports awards, he received an award in 2010 for moral courage from children's charity Bündnis für Kinder. Two years later, he earned the Bavarian state medal for his social engagement. As his public profile expanded, he served as a guest in talk shows and was invited to give speeches. He also represented himself as an honest businessman as well as a man of character.
"I know that it's silly, but I pay all of my taxes," he said in a 2005 interview with German tabloid "Bild." Two years ago he told "Brandeins," a business magazine, "Of course I want success - but not at any price. If it's about money, there's got to be a point where you have to be satisfied."
Hoeness had also called upon Sepp Blatter, head of FIFA, to do more against corruption in the football organization.
That's why people are even more disappointed now, explained Dagmar Freitag. When she heard the allegations in April 2013 that Hoeness had dodged taxes of up to several million euros, she and many others said they would hardly have expected Hoeness capable of such deeds.
Campaign issue
Precisely because Hoeness was so popular with politicians, his tax-dodger past meant many high-profile leaders suddenly had to distance themselves from him. In the lead-up to the September 2013 federal polls in Germany, his case offered much fodder to the opposition Social Democrats (SPD) and Greens in their campaign platforms dealing with ongoing national debates on tax fraud.
Hoeness said in an interview with the magazine Focus that he had initially expected to settle the matter through a planned tax agreement between Germany and Switzerland, supported by Merkel's conservatives. However, that deal was blocked by opposition parties. The tax agreement would have made it possible to pay taxes retroactively on money kept in Switzerland, meaning tax dodgers could have gotten away without fines and even without their names becoming known. For the Social Democrats (SPD) and the Greens, this was not acceptable. As they hold a majority in Germany's upper house, they were in a position to block the bill.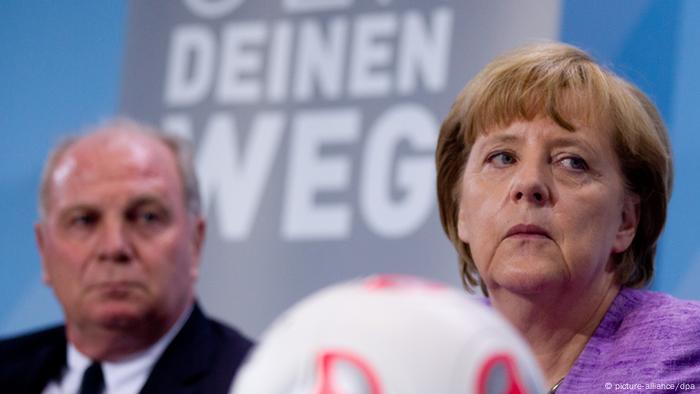 Politicians used to seek out Hoeness, but now must distance themselves from the disgraced star
No 'trivial offense'
Many opposition politicians accused the center-right CDU/CSU and FDP coalition government of having tried to protect tax avoiders. The government, in turn, decried this as election-year maneuvering. Conservative parliamentarian Gerda Hasselfeldt told German public television that tax fraud was no trivial offense, but that it was a sign of pretty poor performance "if the Social Democrat opposition can't think of anything better for their attacks on the government than the personal failings of one individual."
The government defended the failed tax agreement plan by saying the deal would have led many more tax evaders to pay their taxes, as compared with attempts to hunt down just a few individuals. The former opposition disagreed. The SPD's Dagmar Freitag is adamant that tax dodgers should not be let off the hook in any way. Had the deal gone through, Uli Hoeness would have been able to maintain his positive public image, while his tax crimes would have been kept secret.
"But someone who has cheated his country for money must not remain a role model," Freitag argued.
Hoeness cost Chancellor Angela Merkel and her conservative Christian Democrats a particular blow to their image. Merkel enjoyed being seen with Hoeness. For example, she met with him at a 2012 Bundesliga match day aimed at promoting integration. Hoeness and Bayern had been supporters of the event. Now, members of Bavaria's CSU have to be careful how they'll deal with one of their most prominent fans. The soccer boss has always been very outspoken about his support of Merkel's conservatives.