Igor Tenyukh told parliamentarians in Kyiv on Tuesday that he was willing to resign in response to the criticisms he has faced during his brief tenure in control of the country's armed forces.
"It seems that the actions of the interim defense minister in the Autonomous Republic of Crimea have displeased some," Tenyukh said. "I have never clung onto my job, and I don't intend to so now. I have honor."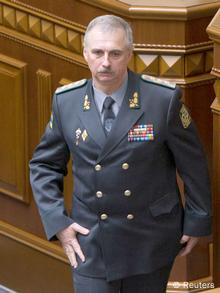 Koval will step in as defense minister
Tenyukh's critics had said that the defense minister should have acted more swiftly during his weeks in office to withdraw Ukrainian forces from Crimea. Around two-thirds of military personnel and their families in Crimea - numbering almost 19,000 people in total - had not filed requests to be stationed elsewhere in Ukraine, Tenyukh said in parliament. They are therefore expected instead to leave the military and stay in Crimea.
Politicians at first rejected Tenyukh's offer of resignation, but later voted to approve it after consultations between party faction leaders and the acting Ukrainian president, Oleksander Turchinov.
Lieutenant General Mykhailo Koval, head of the Ukrainian border guard, was appointed acting defense minister in Tenyukh's stead.
Tymoshenko tape hits the web
Former Prime Minister Yulia Tymoshenko, considered a probable candidate for the presidency when Ukraine votes, made headlines on Tuesday when an audio recording of a week-old phone call was released online.
Tymoshenko said on Twitter that the voice in the phone call was hers, but said that parts of the recording had been doctored prior to publication. The recordings first appeared in the Russian media and Tymoshenko invoked Moscow's FSB (Federal Security Service) secret service when saying that the recording had been edited.
The leaked audio appeared to show Tymoshenko saying that Ukraine's ethnic Russian population should be "nuked," but the 53-year-old contended: "In fact I said: 'Russians in Ukraine are Ukrainians.' Cheers to FSB."
Speaking to Ukrainian parliamentarian Nestor Shufrych, sometimes in Russian, a language Tymoshenko never uses in public, she said that the situation in Crimea "really crosses all boundaries."
"One has to take up arms and go wipe out these damn 'katsaps' together with their leader," Tymoshenko said, using a dergoatory Ukrainian term for Russians, without mentioning President Vladimir Putin by name.
Tymoshenko also apologized for the tone of her language on Tuesday when acknowledging that the voice on the tape was hers.
Right Sector leader dead in police shootout
Ukraine's interior ministry said on Tuesday that a key figure in the ultranationalist Right Sector (Pravy Sektor) group had been shot dead by police.
Oleksandr Muzychko, also known as Sashko Bily, was wanted by both Ukrainian and Russian authorities. He was a prominent part of the Kyiv protests that led to the fall of President Viktor Yanukovych's government. Moscow often pointed to Muzychko as an example of the more extreme political elements that have gained influence in Kyiv's interim government after helping to topple Yanukovych.
Amid conflicting reports on the nature of his death, the interior ministry said Muzychko was shot by police while trying to flee. The ministry also said he had opened fire on police when they tried to arrest him. Initial media reports in Ukraine had said Muzychko was overpowered by police and then shot in the chest.
Ukrainian police were hunting Muzchko on charges including organized crime links and threatening public officials. Russia had issued an international arrest warrant, accusing him of fighting on the side of Chechen rebels seeking a breakaway from Russia in the 1990s.
msh/hc (AFP, AP, dpa)