Despite the apparent breakthrough, Kyiv's and the Kremlin's interpretation of the agreement stood in the way of a quick end to a Russian embargo on energy supplies to Europe.
Ukrainian Prime Minister Julia Timoshenko signed the deal early Sunday, after hours of nighttime talks with EU officials.
Czech Prime Minister Mirek Topolanek, whose country currently holds the EU presidency, arrived in Ukraine late Saturday evening hoping to obtain Kyiv's signature on the deal.
Russian Prime Minister Vladimir Putin signed off for the Kremlin on the EU observer plan on Saturday afternoon.
"Gas shipments (from Russia to Europe via Ukrainian pipelines) could begin as soon as all observers are on site at gas pumping station," Topolanek said, at a joint press conference with Timoshenko. "I think it could be 36 hours."
Timoshenko was far more cautious, pointing out that the agreement signed early Sunday morning in Kiev "was very similar to an agreement (for observers) Ukraine and the EU signed in Brussels...but that Russia has not signed."
The terms agreed to by Ukraine were "less severe" than as indicated in an agreement signed by Topolanek and Putin, Timoshenko said.
EU proposal terms accepted by Moscow and Kyiv alike stipulate Russian and Ukrainian observers may perform monitoring of gas shipments along with EU observers, and that the monitoring could take place along gas transport infrastructure in both Russia and Ukraine.
Location and movement of observers a sticking point
The key difference in the terms concerned where observers would be permitted to do the monitoring, with Ukraine accepting less freedom for the observers in Ukraine than Russia had demanded, Timoshenko said.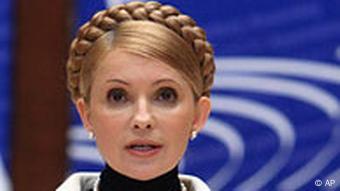 Timoschenko said Ukraine has been more lenient than Russia
"This point (observer access) was discussed in very great detail by Ukraine," Timoshenko said. "(Ukraine has agreed to observer) access to gas reservoirs in Ukraine, but only at those locations, that are critical to the stable transit of Russian gas to Europe. (This is because) the Russian side did not agree to monitoring of Russian gas reservoirs."
Russian officials led by Prime Minister Vladimir Putin have repeatedly accused Ukraine of illicitly redirecting gas intended for Europe into Ukrainian underground reservoirs. Putin's government throughout the embargo has demanded full and unhindered access to all Ukrainian natural reservoirs to confirm the alleged siphoning.
Ukraine's Sunday refusal to accept full access for EU or Russian observers of its entire underground gas reservoir system was a possible stumbling block for ending a Russian embargo on natural gas shipments to Europe begun on January 1, observers said.
Observers to start work on Sunday; gas should follow
Putin on Saturday afternoon said Russia would begin full-scale shipments in Europe as soon as independent observers were on the ground in Ukraine.
An advance party of the EU observer team arrived in Kyiv on Sunday, and was scheduled to perform inspections in the Ukrainian of cities Lviv, Odessa and Uzhgorod.
It was not clear from details of the agreements made public, when all the observers -- a group of some 18 technicians, according the EU statements -- would be in place. The team would likely operate "for something like a month," Timoshenko said.
Russia on Saturday afternoon increased pressure in its gas pipeline system slightly, according to Kremlin officials "as a gesture of good will," some six hours before Timoshenko and Topolanek signed the observer agreement.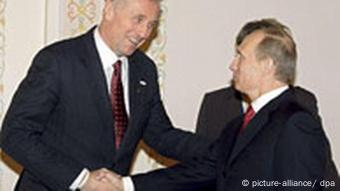 Topolanek reached an understanding with Putin Saturday
Full-scale Russian gas flow would reach Ukraine's natural gas system some 24 hours after the Kremlin ordered it, and Ukraine would need some 48 hours to raise sufficient pressure in its gas transportation system to pass that gas volume onward to Europe, according to energy officials in both countries.
Timoshenko raised another possible future point of contention with Russia at the early Sunday morning press conference, saying Ukraine intended to use "technical gas" - gas held in the pipeline system to maintain pressure, rather than for delivery to customers - to return pressure in its pipeline system to pre-embargo levels, and further that Ukraine would pay Russia for the gas at pre-2009 prices.
Russian officials led by Putin have been adamant that Ukraine has long siphoned Russian gas by manipulating pressure in the line, most recently during the early stages of the embargo.
Ukraine's contention in early January that use of Gazprom gas to maintain pressure in Ukraine's natural gas pipeline system was at the time rejected by Russia outright.
Contract wrangle still resolved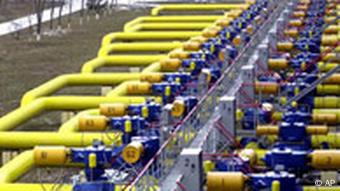 The cause of the dispute still remains unresolved
The EU observer agreement signed Sunday also left wide open the main grounds for the Russo-Ukrainian natural gas dispute: the absence of a natural gas delivery contract between Russia and Ukraine for 2009 setting out the price of Russian gas to be sold to Ukraine, and the fee to be paid by Russia for shipment of product via Ukrainian pipelines to Europe.
Conflict between Kyiv and the Kremlin over the two key pricing issues in late 2008 escalated to a total Russian cut off of all gas sent into Ukraine's pipeline network, including gas earmarked for downstream European consumers.
Timoshenko said she expected "a memorandum on the gradual, proportional increase of the price of gas and its shipment...in the near future."
Russia and Ukraine would continue negotiations to settle on pricing terms, and "I would like to believe they will be successful," she said.
Europe buys roughly one-quarter of its natural gas from Russia, 80 percent of which is delivered to market via Ukrainian pipelines.