OSCE deputy chief of mission Alexander Hug says the incident that killed American paramedic Joseph Stone on Sunday was an example of what the unarmed civilian monitors face constantly - 183 serious threats in the last two years - only this time with the worst possible consequences.
"Our team faces serious threats to their lives and ability to work on a daily basis," Hug told a news conference called to reveal more details about the deadly explosion that also wounded German and Czech monitors, who were hospitalized and released. Hug added that Stone's body has been recovered from the blast site in territory controlled by the Moscow-backed separatists and returned to the government-controlled side.
While both internal and external investigations are underway into the exact cause of the incident, it was "likely a mine" according to Hug, who said the OSCE personnel had taken normal precautions for unarmed mission, such as using an armored vehicle and wearing protective vests. "No matter how many mitigation measures we implement," he said, "those committed to continuing to perpetrate violence will always find a way to run out our mitigation measures."
Michael Bociurkiw is the former spokesman for the OSCE monitoring mission, having spent two and a half years in the job, and now provides analysis on the situation in Ukraine. "It is kind of a miracle" there have been no previous fatalities, he told DW, given the fact that forces, usually from the rebel side, frequently shoot near the monitors or their vehicles in an effort to deter them from performing inspections or getting to the border. "There was an incident quite some time ago when one of the vehicles was very very badly damaged by flying missiles," he recalled, but no deaths, due in part to the heavy security measures the teams take.
Bociurkiw notes that the daily reports issued by the mission have marked an increase in the number of anti-tank mines spotted by the monitors. "These are enormously dangerous and cause immense damage," Bociurkiw said, "and we have to remember that it's not only mission members that are in danger here, it's ordinary civilians and children playing in school yards."
Coincidentally, just a day after the killing, Ukraine's Vice Prime Minister Ivanna Klympush-Tsintsadze was at NATO headquarters to open a photo exhibit called "Children in War" illustrating the toll the conflict takes on children whose schools have been destroyed, living in the shambles of their villages.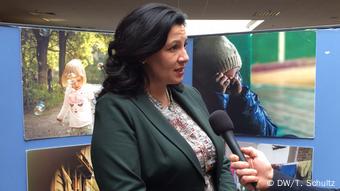 Ukrainian Vice Premier Ivanna Klympush-Tsintsadze opens a photo exhibit at NATO headquarters showing children caught in the crossfire between Ukrainian government forces and separatist rebels backed by Russia.
Klympush-Tsintsadze called for more international pressure on Russia to push the separatists to halt their side of fighting.
Russia needs to stop "violations of the of the ceasefire that we're experiencing every single day from the militants backed by the Russian Federation and to also deal with these explosives and land mines" spread all over the country," she told DW.
But in Moscow, following a meeting with EU foreign policy chief Federica Mogherini, Russian Foreign Minister Sergei Lavrov was taking no responsibility, echoing the EU leader in calling for incident to be investigated in a prompt and transparent way. "We need to bring those responsible to account," Lavrov said, extending condolences to the American people. "We need to get all the facts."
At the same time, he inferred blame on the Ukrainian government for, he said, not being committed to implementing the Minsk ceasefire. While the Kremlin often tries to distance itself from the rebels, in this case Lavrov said Moscow would be willing to pressure them to comply with the disarmament plan if Kiev took more steps in that direction.
In Brussels, Klympusch-Tsintsadze responded to those comments with disdain. "I don't think that there is any question from where this mine came from," she said. "I'm pretty sure that that would be a mine produced by the Russian Federation and put in there by the Russian Federation or separatist militants, controlled by them or the regular forces themselves."
OSCE deputy mission chief Alexander Hug says, beyond explaining that the blast happened in a separatist-controlled area, he would not be pointing fingers at either side until the results of the investigation were known. He warned there would be repercussion, as yet unnamed."If those who continue to perpetrate this violence think this is normal,they are wrong," he said, "It is not normal and it is not acceptable. This culture of impunity cannot continue."
In a trip planned before the deadly incident, OSCE Lamberto Zannier will meet Lavrov Tuesday.