Britain's impending departure from the European Union has created additional uncertainty surrounding the issue of European defense. The remaining 27 EU member states are asking themselves whether London will seek a stronger relationship with Washington at the expense of its geographically closer European partners. On the sidelines of the Munich Security Conference, DW's Michaela Küfner asked Britain's defense secretary, Sir Michael Fallon, what effect the Brexit could have on European security.
DW: Sir Michael, you've reiterated that the new UK defense policy will put NATO at its core. How much does talk about NATO, talk about how much it is still a stable structure, damage the alliance itself?
Sir Michael Fallon: The alliance needs to stick together now. The alliance is being tested. It is being tested by Russia; it is being tested by terrorism in the Middle East. There has never been a time when Europe and NATO really needed to stick together more - and Britain is going to be a part of that. We are leading the Very High Readiness Task Force, the response unit of NATO, all this year. We are deploying troops to Estonia. We are deploying RAF aircraft to Romania for southern air policing. We will continue to lead in NATO to help bring that reassurance that the alliance needs.
There was a lot of talk here of strengthening alliances to avoid a fall back into spheres of influence. Now you are about to leave a very strong alliance: the European Union. How much are you becoming a sphere of influence of the United States?
We are leaving the political European Union. But we are not leaving the continent. Europe remains our continent. We are going to go on contributing to the security of our continent. We also have this transatlantic relationship. Our oldest and strongest ally was the United States. It is a very strong defense relationship. So we see that benefiting both. We see that benefiting the United States, where we will be a bridge between Europe and the United States. But it also benefits the alliance as a whole that Britain is able to link with the US in that way.
Britain has always been skeptical of EU ambitions to build up its own force. You are hinging your defense even more on NATO, even more on your US partner in the future. How is that going to work?
Defense is for NATO and not the European Union. We are not alone in trying to encourage the EU to avoid duplicating what is being done in NATO. NATO has to be our primary defense. At our last NATO summit, we agreed that the European Union and NATO need to work more closely together, need to avoid duplication. So, with other members of the European Union, we have been resisting calls for a European headquarters or a European army. We don't need that. We have NATO. We need to make NATO work properly for everybody.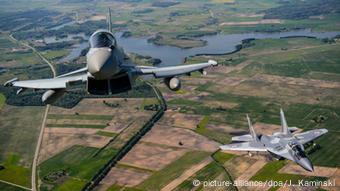 RAF planes are involved in air policing in eastern Europe
The EU will no doubt go ahead without you on that, though. Will you still be a stakeholder in that process at all?
It is not just Britain that has been pointing to the need not to set up new unnecessary structures. When we discussed this in Bratislava in September, many other European countries joined with us in saying that we already have NATO. We don't need an EU army. We don't need EU headquarters. They have different roles. Europe has the political role. It can impose sanctions, for example on Putin. It has the diplomatic clout. But it is NATO that is the military power, and it is very important that we don't have two competing organizations.
The interview was conducted by Michaela Küfner.
You can watch the interview here.