Britain's Labour Party could have a new leader later in the year, as lawmaker Angela Eagle launched her candidacy against incumbent leader Jeremy Corbyn.
"Today I am announcing my decision to stand for the leadership of the Labour Party," Eagle, 55, said in a speech to kick off her campaign. Eagle had neglected for days to launch her challenge, as her allies in the party sought to push Corbyn into resignation without a leadership contest. The current leader withstood this pressure, however.
"Jeremy Corbyn is unable to provide the leadership that this party needs. I believe I can. I am not a Blairite, I am not a Brownite and I am not a Corbynista, I am my own woman," she said, referring to previous party leaders Tony Blair, Gordon Brown and Corbyn.
Eagle had earlier called for people to join the party to attract more votes and topple Corbyn, saying that she could not take on the task of challenging the current party leader alone.
However, her support may be waning, as her opponents are reminding those eligible to vote that Angela Eagle had voted in favor of joining the war in Iraq, following the Labour Party line of the time under Tony Blair. Her candidacy comes just days after the publication of the damning Chilcot report examining the 2003 invasion of the country.
No confidence in Corbyn
Corbyn was surprisingly elected as Labour leader in September 2015 on a wave of support from the party's grassroots members. Though many party members continue to stand behind the veteran politician, Corbyn has faced several clashes with Labour MPs in the time since taking over party leadership, resulting in a no-confidence motion in his leadership.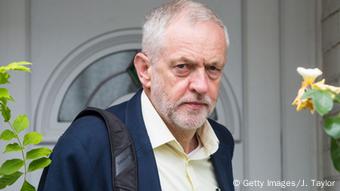 Veteran socialist Jeremy Corbyn refuses to stand down despite the no-confidence vote
In a non-binding secret ballot last month, 172 of 230 Labour MPs said they had no confidence in Corbyn's leadership. This had provided Eagle with the opportunity to challenge for the leadership, a step she only took on Monday.
Many within the party have accused 67-year-old Corbyn of not campaigning strongly enough to keep Britain in the European Union in the June 23 Brexit referendum. Although he said he was nominally in favor of keeping the UK in the EU, Corbyn had in the past criticized the country's membership in the bloc. Many of Corbyn's top team in parliament resigned from their positions in protest both at this, and in response to the sacking of prominent Labour figure Hilary Benn from the post as shadow foreign minister.
Conservative Party also undergoing changes
The news of Eagle's candidacy came as Andrea Leadsom quit the race for the Conservative Party leadership contest, seeking to fill the post of resigning Prime Minister David Cameron, who announced he would quit after the referendum's results.
Cameron said on Monday that he would stand down on Wednesday, enabling May to take up the post of prime minister this week. Prior to Leadsom's withdrawal, a leadership contest was scheduled for September.
ss/msh (Reuters, AFP, dpa)