First Janet Museveni ran for a seat in parliament, which she won with ease. That was in 2005. Then she became State Minister of the northern Karamoja region. She then climbed the political ladder to become Minister of Karamoja Affairs and now the first lady has, what is said to be the sought for sports and education ministry.
"Museveni is pushing a family agenda in Ugandan politics. Recently he promoted his son to the rank of major general and now his wife is reappointed minister," former parliamentarian Ken Lukyamuzi told news agencies.
For the most part, Museveni's cabinet is made up of old hands. His vice president, prime minister, as well as finance and energy ministers remain the same. Kirunda Kivejinja, one of his deputy prime ministers, kept his position despite his 81 years of age and veteran politician, Hajji Abdu Nadduli, was appointed minister without a clear portfolio.
Brushing aside the criticism, government spokesperson, Shaban Bantariza, said that Museveni had chosen his cabinet members on the pure merit of their work.
Uganda's first lady, Janet Museveni, reaffirmed this statement, pointing out her work in Karamoja region, a drought prone area where people still face famine and water shortages and which remains underdeveloped in terms of infrastructure. The area has also had major problems with cattle rustling: "We were trying to make sure that the animals are safe, that [people] won't have to steal to live. People are producing food, they can have an income, that way we can start talking about other things. And we are talking about education, we are talking about health, housing so that people can begin to consider and live a modern life," she said.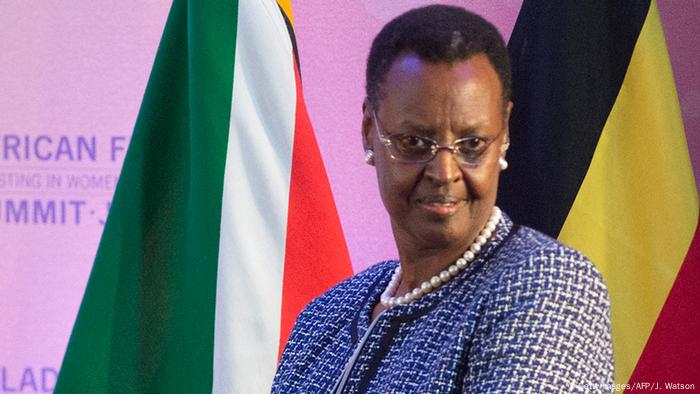 Uganda's first lady Janet Museveni has been climbing the political ladder for over 10 years now
Embracing a mild opposition?
To the surprise of many, President Museveni also appointed some opposition figures, some of whom lost in the parliamentary elections. These include Betty Kamya who stood against Museveni as a presidential candidate in the 2011 elections. She got the post of Minister for Kampala City.
Other notable appointments are those of Betty Amongi, a member of Uganda People's Congress party and Nakiwala Kiyingi of the Democratic Party (DP). Nakiwala who was appointed Deputy Minister for the Youth said that her party had no problem with her appointment. "Fellow DP members are congratulating me and even contributing some ideas, they are impressed," she said. Nakiwala had contested and lost the race to become the woman's representative in parliament for Kampala.
While the new appointments may be seen as an attempt by Museveni to appease the opposition, some people on the streets of Kampala said that the president should have appointed stronger opposition figures to make a difference. "The so-called members of the opposition have in my opinion been leaning towards the [ruling party] and some of them seem like they are too desperate for jobs," a primary school teacher told DW.
Kizza Besigye, Museveni's main opponent during the recent presidential elections, is currently under arrest in a high security prison in Kampala. He stands accused of treason after saying that the polls were rigged in favor of Museveni and holding a mock inauguration ceremony in which his party swore him in as president.
East Africa's biggest cabinet
Amidst calls for Museveni to reduce the number of ministers and presidential advisors, the president created new ministries to accommodate his appointments. With 81 ministers, Uganda now has the cabinet in East Africa.
Despite Museveni's election promises to transform the country, former Supreme Court judge and political analyst George Kanyeihamba believes that the new cabinet is not likely to change much. "The cabinet which we see today, which he has appointed, is a non performing cabinet. If you appoint a cabinet for reasons other than economic or development, how can you achieve a middle income state?" he said.
Kanyeihamba contends that most appointments were people being rewarded for the past contributions to President Museveni's stay in power. The new ministers still have to be vetted by a parliamentary committee before they can take their offices.