Germany's UEFA executive committee member, Theo Zwanziger, said the games could take place in 13 countries, the Bild newspaper reported on Tuesday.
UEFA President Michel Platini wants to have the plans discussed at the December 7 executive committee meeting, and ratified in January.
"Michel Platini has laid out his plan to me in a meeting," the head of the German football federation (DFB) Wolfgang Niersbach told Bild. "But it requires confirmation by the executive committee."
Niersbach told the DPA news agency Tuesday that the DFB is supportive of the idea.
"We have discussed the issue within our leadership and are open towards the proposals," he said. "The idea of having Euro-games in Germany is attractive."
Cost savings
Platini first raised the idea at the end of Euro 2012, joint hosted by Poland and Ukraine. He believed one benefit could be potential cost savings for host cities.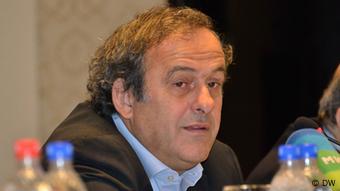 Platini said the continent-wide tournament would be a one-off event
"I feel passionately about it, and the executive committee thought it was a good idea," said the former French international in June. "It will be easier from a financial aspect - one stadium per host city."
In October Platini said that if he were to move forward with the plan, the UEFA member nations would have to be in favor.
13 host cities
As the European Championship expands from 16 to 24 teams in 2020, half of the qualified teams would be seeded and serve as host countries. A team is seeded if it qualifies and is ranked in the top 12 in Europe.
The 12 seeded teams - two from each group - would host the group stage and round of 16. The quarterfinals would be played at a neutral venue, and the semifinals and final would be played in a 13th city.
If Germany were to qualify, they would host their matches in Berlin's Olympic Stadium, according to Bild.
Based on the current FIFA ranks, matches could also take place in Madrid, Lisbon, Rome, London, Amsterdam, Moscow, Zagreb, Athens, Basel, Paris and Brussels.
A one-off tournament
Platini has said hosting the tournament in such a way would be a one-off event.
"If the idea is appealing to [the committee] we will enter into details to see how we can organize a Euro in several European Cities, but only in 2020 mind you," said Platini last month.
Turkey had previously expressed interest in hosting the tournament on its own, but only if their bid to host the Olympics in the same year is unsuccessful.
Combined bids from Scotland-Wales-Ireland and Georgia-Azerbaijan have reportedly not convinced UEFA.
Euro 2016 will be played in France.
dr/ipj (dpa, Reuters, AFP)