Preparations for the 2012 Euro, which will be co-hosted by Poland and Ukraine, have been dodged by controversy, with speculation that Ukraine could lose the right to host the showpiece of European soccer.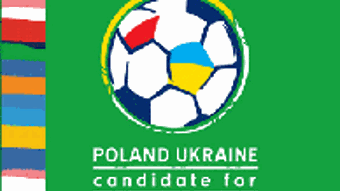 Poland and Ukraine moved from being candidates to hosts in 2007
UEFA awarded the two countries the rights to stage the tournament in April 2007, despite concerns they would not be able to build the necessary roads, airports, stadiums and hotels.
Speaking after an UEFA executive committee meeting in Copenhagen on Tuesday, March 24, Gerhard Mayer-Vorfelder said the committee had confidence in the two countries.
"Nobody is talking about changing the venue anymore," he said. "The stadium construction is going ahead."
Executive committee member and German soccer legend Franz Beckenbauer said the organization had received a very positive report about the state of preparations.
Hosts confident
The Polish Soccer Federation said it had no doubt that it would be able to co-host the 2012 European Championship with Ukraine.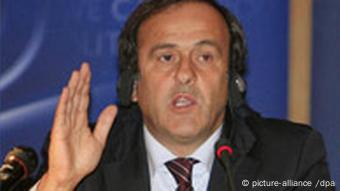 Platini is headed to Poland and Ukraine next month
"It's 100 percent certain that Euro 2012 is going to take place in Poland and Ukraine," Grzegorz Lato said last week.
The ongoing financial crisis, which has hit Ukraine particularly hard, has raised questions about Kyiv's ability to host the event.
"I think it's no secret that Ukraine has the more immediate difficulties given its IMF loan and looking at balancing its government budgets," UEFA General-Secretary David Taylor told the Associated Press this month.
Ukraine received a $16.5-billion (12.2-billion-euro) loan from the International Monetary Fund to help combat the crisis. The IMF expects Ukraine's economy to contract by at least 6 percent this year. The national currency has lost about 43 percent since September.
Taylor, however, added that he had received assurances from Ukrainian officials that the 2012 tournament remained a "top priority."
Platini to examine preparations
UEFA President Michel Platini is scheduled to travel to the two co-hosts in April to get a first-hand view of the preparations in the two countries.
But he said UEFA is already planning for lower revenues from the event than came in during last year's competition in Switzerland and Austria, which brought in $2 billion (1.5 billion euros) in TV and marketing money.