A children's center in a tent camp in Port-au-Prince, financed by the German aid organization Kindernothilfe, is just one example of the ways German aid money is being spent in Haiti, two years after the devastating earthquake that laid siege to the Haitian capital and the surrounding region.
Small children who lost their parents in the earthquake are supervised here, says the center's director Ghislaine Alvarez: "We work with them on the board, teach them how to read and write. We even play games with the many materials we have."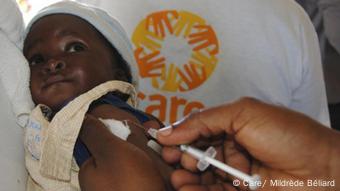 Rescue organizations supported emergency services
Germans donated some 230 milllion euros ($293 million) to aid organizations after the earthquake on January 12, 2010. This amount was uncommonly high for aid drives. A large part of the aid was used immediately in emergency rescue operations, which were largely successful - hundreds of thousands of people were saved from starvation and received critical medical attention.
And then there was the great hope the earthquake could bear positive fruit: Haiti, long considered one of the poorest countries in the western hemisphere, was to be rebuilt. Two years afterwards, however, the results are sobering.
Many organizations, not as much money
"I think that lofty goal has been pushed aside for the time being. We are more concerned with dealing with the reality of the situation here - with the great task, as far as it is possible, of solving the most serious and acute problems," says Katja Anger of Kindernothilfe.
It is the Haitian agencies that have received the criticism when it comes to the shortcomings of the reconstruction effort. But these were themselves ruined in the earthquake. Many employees perished, and for a long time the government wasn't able to function.
NGOs and non-profit organizations from around the world attempted to fill in the gaps; not only donations were to be applied in a sensible way. Haiti is a lucrative country for those willing to help - one of the first addresses in the whole world. Gregor Werth, of the aid organization Help, came directly to Haiti after the disaster and experienced firsthand how aid organizations found their feet:
"I was amazed when I got here in 2010, just a few days after the earthquake, to see cars driving around with stickers of international organizations I hadn't even heard of before. I asked myself: 'Who are you? What are you doing here?' That was really the question: 'What do you want to do here?'"
Help has used the money it received from donations to build some 700 interim houses, called T-shelters, for Haitians that were previously living in roofless camps. But it looks as if their means will soon run out. The similar initiative "Aktion Deutschland hilft" has already spent around three-quarters of its donations; Germany's Red Cross has almost spent everything it had.
More important than ever
Now the financial means provided by the German government, European Union and United Nations, are even more critical, says Gregor Werth. For the actual process of reconstruction is just beginning.
"Things are really starting to move - be it infrastructural improvements like building streets or just removing rubble. Now, two years after the earthquake - as ridiculous as that may seem! - we can say that we are starting to get things done."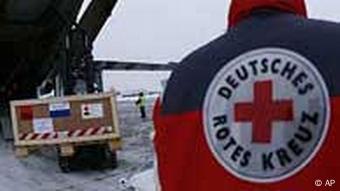 Germany's Red Cross has just about spent all its money
Kindernothilfe is also looking to remain in Port-au-Prince as there remains enough for their workers to do there. The organization is currently building a school and is looking to finance further day care centers.
This aid is indispensable, says Katja Anger. The organization has already helped thousands of children and changed their fates. But the overall situation, she says, remains plagued with problems.
"Of course, there are limits to what one single organization can accomplish. For, in the end, our mission is not to replace the Haitian state, but rather to support it and help the people as much as we can. And the people in Germany wondering what's happening with their money have to understand that we are dealing with extremely complex problems. These things require time."
Author: Martin Polansky, Port-au-Prince / glb
Editor: Andreas Illmer